Healthy Aging® Magazine Feature Article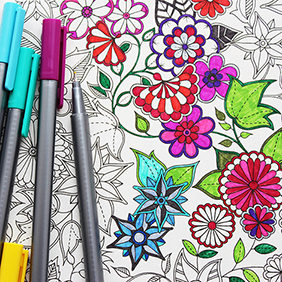 Getting off the grid is difficult these days. Computers, cell phones and other devices consume us. Pulling ourselves away from the screen seems impossible. One new antidote for your computer fix can be coloring books. Yes, coloring books for adults are all the rage.
Recently, a number of artists have started creating coloring books geared towards helping adults unwind and relax. Work, technology, bills, cleaning, and cooking can be stressful but coloring seems to be the latest stress reliever.
Enter markers, colored pencils and crayons that don't require a great deal of thought or labor. Rather, they just need hands, a little bit of your free time and some imagination.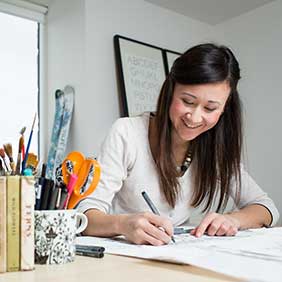 One of these artists is Johanna Basford. Drawing inspiration from her own backyard in Scotland, she has built up a world full of furry creatures and blooming flowers. Now she's asking the world to add a little color to her creations. And the world is answering with an enormous appetite for her work.
Her first book, Secret Garden: An Inky Treasure Hunt, published by Laurence King Publishing, has sold over one million copies worldwide. It's full of intricate, nature inspired designs that Basford has hand drawn with pen-and-ink. While it's for all ages, adults will appreciate the delicate, detailed drawings begging to be filled in.
Topiaries shaped like flamingos and rabbits, a page full of different sized beetles, a wishing well surrounded by twisting flora and so many more designs will take you out of this world and into your imagination. Throughout the 63 illustrations, Johanna Basford has hidden little secrets for you to find, and an index in the back of the book that tells you what to look for. Sometimes, it may be a matter of spotting a number of owls amongst a tree full of bustling leaves or something as simple as a couple of bees in flowers. Either way, each page holds a secret.
Other publishers have jumped into this exploding market including Schiffer Publishing, Ulysses Press, Sterling Publishing, Skyhorse and more.
To continue reading this article and more like it, subscribe to Healthy Aging Magazine, the lifestyle magazine that is all about following your passion and what you can do rather than what you can't.