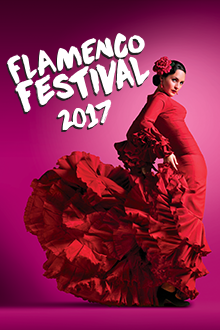 If you love dance, you can't miss the Flamenco Festival 2017 featuring world-class dancers who will show their creative stuff at The New York City Center, March 9 to 12, 2017.
About Flamenco Festival 2017
Flamenco Festival 2017 will highlight the explosion of creativity in flamenco today, bringing its best ambassadors under the banner Flamenco and Beyond. After performances in Miami, the four-day-festival now comes to New York, a city that has embraced it since 2001 and where the event has become the most important international flamenco festival in the world.
History of Flamenco
Flamenco has its roots in Andalucía, Spain dating back to at least the 16th century. It's said that flamenco evolved through the cultures of the Gypsies, the Moors, the Jews and the Andalusians.
In the beginning, lore has it that flamenco was originally a chant, almost a primitive cry given rhythm by a cane or wooden staff being beaten on the floor. Today the art form combines guitar, song and dance along with hand-claps and other rhythmic expressions.
Flamenco Today
"Flamenco is now more alive than ever," said Miguel Marín, founder and executive director of the Flamenco Festival. "There is an explosion of creativity these days that permeates the art form, and I'm very proud that this edition of Flamenco Festival will offer a glimpse of the work and creativity of this amazing generation of artists. They are keeping flamenco alive, respecting the tradition but also pushing forward, always changing and evolving."
Best of the Best to Perform
This world-class performance showcases the greatest of the great flamenco dancers including the legendary gypsy dancing of Juana Amayam, technical sensation dancer Jesús Carmona, the innovative Patricia Guerrero, energetic star, Olga Pericet and one of the most distinct voices in flamenco today, singer and songwriter, Rocío Márquez
Directed by flamenco dancer and choreographer Manuel Liñán, Gala Flamenca features five of the most exciting figures in flamenco today, underscoring the variety and creativity in contemporary flamenco.
Where to Find Tickets
Tickets are available on the New York City Center website.
For more information about Flamenco and Andalucía, Spain where you can see more flamenco dancing visit the Andalucia, Spain website or the Official Tourism website of Spain.