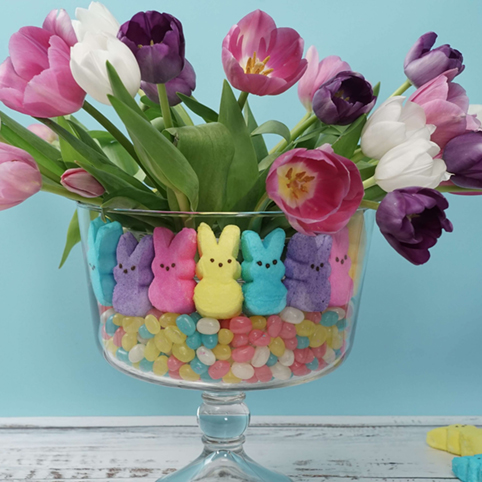 Setting your table for Easter and out of ideas for a centerpiece? Here's a simple, colorful, and fun one guaranteed to draw smiles: PEEPS® Bunniful Easter Centerpiece.
What You Need
• 1 Trifle glass round bowl
• 1 Smaller glass vase to fit inside the trifle bowl (allowing no more than 2″ in between the layers and enough space to fit the bunnies)
• 4 packages – Bet PEEPS® Brand Marshmallow Bunnies in Assorted Colors (Yellow, Pink, Blue, Lavender)
• 2 packages of PEEPS® Brand or Just Born® Jelly Beans
• Tape
• Bouquet of multi-color Tulips
Instructions
1. Insert the smaller glass vase into the larger trifle bowl and place in center.
2. Add Jelly Beans all around the bottom, between the 2 layers of glass – go up about 3″.
3. Separate the PEEPS® Marshmallow Bunnies and alternate colors, placing them on top of Jelly Beans. Go all the way around the bowl between the 2 layers of glass keeping them close together.
4. Pour water into the smaller vase.
5. Use tape and create crisscrosses across the top of the smaller vase (this allows the Tulips to stand up tall when you put them later).
6. Add the Tulips – using the smaller squares created by scotch tape to insert Tulips into the sections.