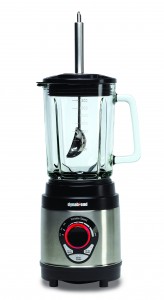 With juicing and breakfast smoothies all the rage, you might wonder which blender is right for you. 
A new one to come on the market and tested by Healthy Aging® editors, is the Dynablend® Horsepower Plus™, a high power blender  with a solid glass pitcher and a stainless steel scoop.
This blender is powerful with a 1.1 horsepower motor working at a maximum of 23,000rpm.   According to Jae Choi, founder of Tribest® Corporation, "We worked to develop a durable, tempered glass that could withstand the power needed to blend ice and any fruit or vegetable. Our goal wasn't power for the sake of power – we weren't going for the type of power that could blend an iPhone – our mission was just the right amount power to achieve maximum nutrition. The Dynablend's unique design prevents the delicate nutrients in the produce from being overheated."
And, the blender holds up to their mission.  The Dynablend features a stainless steel body and the addition of a durable, tablespoon-sized, stainless-steel utility scoop that acts as a multi-purpose measuring tool or agitator.  
What we like about it is the wide from top to bottom glass pitcher making it very easy to pour the contents out or to reach the bottom with the scoop or a spatula. 
There is the option to use a manual variable speed ranging from low to high or choose from three convenient automatic settings. A plugged-in, warning blinking LED light helps users save energy, while an action-ready solid LED light shows the blender is on for use.  
At 1/3 the cost of other super-power blender brands on the market, the Dynablend will be available for purchase online and at select retailers for an SRP of $189. It is very easy to clean and comes with a 10-year warranty. 
For recipes and more about juicing, subscribe to Healthy Aging Magazine.