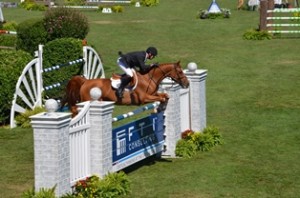 The Hampton Classic is the place to be this Labor Day weekend. Drawing spectators and competitors from around the world, the annual multi-day equestrian event culminates Sunday with the $250,000 Grand Prix.
The event provides a venue for riders to showcase their talents and for spectators to live vicariously as they watch the magnificent horses in the hunter and jumper classes. It's a place to people watch and to shop. Celebrities who have attended or competed at the show in the past and might be spotted include Alec and Billy Baldwin, Mayor Michael Bloomberg, Bruce Springsteen, watching their daughters or Mary-Kate Olsen, former child star, Full House, riding her horse Swagger in the jumpers.
Riders of all ages compete from the pony competitors all the way up to those who have made horses their passion and lifelong sport. Some of the more senior competitors, all in their 50s, to watch are Anne Kursinski, Mario Deslauriers, and Peter Leone.
Chic vendors for fashionistas and the casual browser in the Hamptons this weekend include Hermes, Sam Edelman, DuBarry of Ireland, Land Rover/Jaguar, Missoni Home, Bevels, Vogel Boots and Shoes and many more.
The horse show is steeped in history. First organized in the early 1900s, the annual Horse Show in Southampton took place in open fields overlooking Lake Agawam. The First World War ended the show until its revival in the 1920s. The show continued until World War II when the show discontinued again. Revived in 1952, the show went dormant again until the 1960s and 70s. In 1976 the show was held at the Dune Alpin Farm in East Hampton and then relocated to its present and permanent location, the 60-acre Hampton Classic Showgrounds.
Children will find lots to do with the pony rides and children's activities. Show runs through Sunday, August 31.
For further information: www.hamptonclassic.com