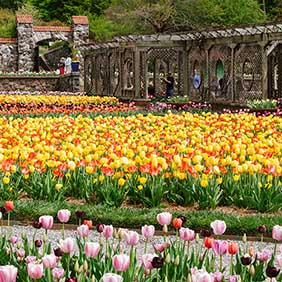 By Julie Kostelnik
It's really, really here. Spring at last!
The temperature is slowly rising and the days are growing longer. All across the United States festivals are starting, celebrating the transformation from green leaves to pink cherry blossoms and to watch budding roses unveil their vibrant colors.
Healthy Aging® Facebook Cover Features Spring at Biltmore
To celebrate the much anticipated arrival of spring, our latest Facebook cover photo is of the magnificent Walled Gardens of the Biltmore Estate in North Carolina. Reds, oranges, yellows, and pinks, it's hard to imagine so many flowers in one place. Spring has coaxed open these beautiful petals and now we can enjoy the fragrant aroma of tulips, daffodils, roses and more.
About The Biltmore Estate
The Biltmore estate is a stunning home built in 1895 and is the largest privately owned house in the United States. It is not just the luxurious interior or the hospitality that brings people to explore this peek into the world of the famous Vanderbilt family, however.
The Biltmore property encompasses 8,000 acres of land which include breathtaking gardens designed by landscape architect Frederick Law Olmsted. It has 2.5 miles of paths built into the gardens, long arbors with vines, America's first managed forest, and flower beds arranged in all sorts of patterns. The Rose Garden contains more than 250 varieties and the Walled Garden included in our cover photo has daffodils, hyacinths, tulips, perennials, and chrysanthemums.
Make it a bloomin' road trip
For an inspirational road trip , head to the Biltmore enjoy the blossoms with a stay at the four-star Inn. There's plenty to do including touring the exhibition, The Vanderbilts at Home and Abroad in Antler Hill Village & Winery and the Dressing Downton: Changing Fashion for Changing Times Exhibition (now through May 25, 2015) at the Biltmore Estate.
Now through May 25th, watch as the gardens of Biltmore are flooded with color. Early April brings the enormous Darwin Hybrid Tulip varieties, flowering shrubs and trees, forsythia, spirea, magnolia, and cherries. Take a walk through lush forests or the meadows of Deer Park.
Visit the weekly Bloom Report to see what flowers are currently making their debut.
To rec­om­mend a photo, con­tact: editor@healthyaging.net