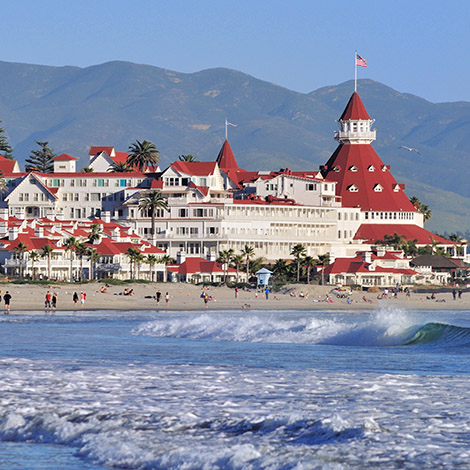 Looking for a beautiful beach vacation in the fall with plenty to do after your day in the sun? Consider Coronado Beach, California.
Consistently voted one of the best beaches in the United States, Coronado offers pristine sand, gentle surf and a charming community with a small-town feel. And, the weather is perfect now.
Situated just across the Big Bay from downtown San Diego, Coronado is most notably known for two famous structures, the historic Hotel del Coronado and the distinctive San Diego-Coronado Bridge. But beyond these architectural marvels, the quaint island community offers visitors an experience that is a world apart.
What to do
The coastline offers gentle surf and sparkling sand beaches (courtesy of the mineral Mica) that draw in visitors from around the world. Add to this a charming small-town quaintness, with elegant gardens, old-world mansions, unique shopping experiences, and dining options with spectacular ocean views, no wonder it's been dubbed as "The Crown City" (Coronado is Spanish for "the crowned one").
Spend the day relaxing on the beach or rent a bike and tour the Island via the beachfront boardwalk.
Shopping
Take a stroll down Orange Avenue, Coronado's main street, which is lined with shops, restaurants, galleries, theaters and the Coronado Museum of History & Art. At the other end of the island, Coronado's Ferry Landing offers a collection of over 20 shops, art galleries and restaurants boasting stunning views of San Diego's downtown skyline. Flagship Cruises also offers low cost Ferry service from the landing across the bay to Seaport Village on the edge of downtown.
And no trip there would be complete without a visit to the Hotel del Coronado. Built in 1888 and designated a National Historic Landmark, the hotel has a fascinating and colorful past which includes royalty, politicians, scandals, ghosts and celebrities. It's also widely believed to have been the inspiration for the Emerald City in L. Frank Baum's Wizard of Oz.
*Feature photo: Coronado Beach -Courtesy Brett Shoaf Artistic Visuals
---
To continue reading this article and more like it, subscribe to Healthy Aging Magazine, the lifestyle magazine that is all about following your passion and what you can do rather than what you can't.
---