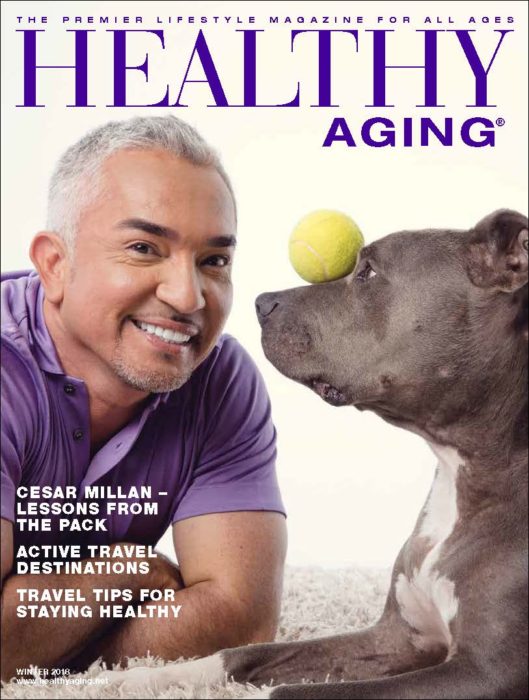 If you have not grabbed your subscription to Healthy Aging® Magazine now is the time! We have lots of ideas for how you can do something positive for yourself. The issue is chockful of inspiration, ideas and information on how to improve your lifestyle.
What change do you want to make in your life? Travel? Eat more healthy foods? Find a new career? Check out the latest issue and be inspired!
This issue's theme is active travel from unique places to go, wellness destinations, fun and off-the-beaten path spots.
Here's a sampling:
Cesar Millan's Lessons From The Pack … Insightful lessons we can learn from our dogs
Horses, Hats, History, Honesty, Heart, and Hospitality Make It a Dude Ranch Vacation … Nourish your heart and soul cowboy style
All-Inclusive Resorts Go to the Next Level … Excellence Group Luxury Hotels and Resorts set the pace
A Visit to Carmel-by-the-Sea Leaves Travelers Healthier, Recharged, and Inspired … Breathtaking jewel for active travelers
Return to Nature and Connect With Yourself at Aegialis Hotel and Spa—Amorgos, Greece … Wellness vacation on Greek island
Think Suitcases Never Change? Think Again … The latest in luggage fashion
Recipes for Health … Comfort and healing foods from three fab cookbooks
Have You Tried Glamping Yet? … Camping meets luxury
The Dos and Don'ts of Health Insurance When Traveling Abroad … Insurance tips to help avoid nightmare of illness overseas
Arts — Fun Movies to Check Out … Movie date-night ideas
Medical Tourism — Going Abroad for Medical Care … Tips for seeking medical services outside of the U.S.
4 Ways Baby Boomers Can Avoid Going Bust On Their Kids' Student-Loan Debt … Tips for dealing with student loans
4 Reasons a Great Meal Is About How You Eat–Not What You Eat … Taking time to appreciate food
Three Passport Life Hacks To Try … Brushing up on passport know how
4 Essential Clothing Pieces for Any Suitcase … Fashion tips for spring travel
Quit Should-ing Yourself … Excerpt from Laugh It Up by Candace Payne, viral sensation of Chewbacca Mask fame
Want to read more?
Subscribe now to read in-depth articles and to make the links come alive!