This bi-monthly travel tips column is brought to you by TownePlace Suites, an all suites hotel with full kitchens. Check back twice a month for more special columns like this one.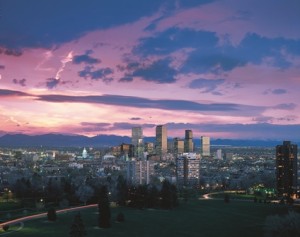 By Ruta Fox
Denver is booming. And it's not the first time. Or even the second. The gold rush, the land grab, Denver was even destroyed twice – once by fire, once by flood — but has always rebounded with the pioneer spirit it's famous for. Now, a sophisticated locale with the moniker "The Mile High City," this lofty (altitude: 5,280 feet) town features 300 days of glorious sunshine, clear skies with puffy white clouds and majestic snow-covered mountain ranges, with a climate that is much milder than you'd expect – average daily temperature in the winter is 45 to 60 degrees.
From the time that the first gold flakes were found in 1858 at the base of the Rocky Mountains, Denver was flooded with prospectors hoping to find their fortune. A bustling, dynamic city for the young at heart, it's said that folks there "get up early on the weekends because there's so much to do."
Start your tour with the use of Denver Story Trek — an interactive, self-guided exploration through Denver. From parks, street corners, homes and businesses, Denver is full of old places that tell the stories of the past about the Mile High City. You can follow a Featured Trek or customize your own tour and learn about the city's historic landscapes and landmarks. http://www.denver.org/what-to-do/attractions/denver-story-trek-history If you're looking for a bit of exercise this time of year, try free ice skating when you bring your own skates, or rent them for only $2 at the Southwest rink in Skyline Park downtown. The rink has live music and entertainment activities as well. http://www.downtowndenver.com/events/southwest-rink-at-skyline-park/
Denver also offers up 850 miles of paved bike trails, hiking, skiing, snowboarding and top-notch cross country skiing as you'd expect in this winter wonderland. Some golf courses are even open all year round.
For those that want to stay indoors, Denver has the second largest performing arts center in the country with 10 venues. Art lovers will not want to miss the Denver Art Museum's exhibit called Passport to Paris, up until February 9th, 2014. You'll take in an impressionistic bounty of Monet, Van Gogh, Toulouse-Lautrec, Degas and Renoir and get three exhibits with one ticket. They also have a great collection of Native American artworks. (http://www.denverartmuseum.org)
For an authentic look of the Wild West, dress the part and check out the downtown flagship store of Rockmount Ranch Wear in a landmark building in the LoDo neighborhood. Their retro-fashion goods are worn by Western, Rockability and Rock celebrity legends. Take home a blanket inspired by Native Americans or select a shirt, tie, hat, jacket or belt. (http://www.rockmount.com)
Food culture in Denver is varied and complex, with six chefs named as James Beard House Foundation award winners working in a bevy of sophisticated cuisines around town. A favorite is Fruition Restaurant which serves up a gourmet Pasta Carbonara with cured pork belly and handmade cavetelli and soft poached egg in a parmesan broth or try Roasted Columbia River Sturgeon with carnaroli risotto and foraged mushrooms. (http://fruitionrestaurant.com) Francophiles will love the chic French Bistro Vendome. (http://bistrovendome.com)
Since Denver's first permanent structure was a saloon, it's only fitting that imbibing a beer should be in the plans. The largest brewpub in Denver is The Wynkoop.(http://www.wynkoop.com) Shoot a game of pool or play darts while you enjoy a fresh brewed beer or a crafted cocktail such as the Porch Swing or the Breckenridge Sour. The largest brewery in the world is the Coors Brewery in nearby Golden where you can take a tour. Denver's oldest bar has been a saloon since
the 1880's, named My Brother's Bar. It's the only bar left in Denver that was a hangout to Beat Generation heroes Jack Kerouac and Neal Cassady.
Try exotic dishes with fine dining at The Fort, an authentic reproduction of an old adobe trading post, where you can dine with a view of the twinkling lights of Denver. Feast on beef, buffalo, elk, quail, and wild game. (http://www.thefort.com) More about the history of the Old West can be found at the Buffalo Bill Museum about 12 miles out of town, which details the life and times of William F. "Buffalo Bill" Cody. (http://www.buffalobill.org)
For a touch of Victorian holiday splendor, visit the Molly Brown House museum (of unsinkable Molly Brown fame) aglitter with mistletoe, lights and garlands plus high tea this season. Molly survived the Titantic disaster and went on to be an activist, patron of the arts and fundraiser in Denver. (http://www.mollybrown.org).
Indulge in a cosmopolitan meal at Tag Raw, in a tucked away location featuring glossy white tiles, punches of bright orange and raw wooden beams. The specialties here include sushi, ceviche, and carpaccio all done with a bevy of the freshest, seasonal ingredients. (http://tagrawbar.com)
Wrap up the season and the year in Denver with the spectacular New Year's Eve fireworks along 16th Street, with live music and family friendly activities.
Check out this TownePlace Suites (www.TownePlaceSuites.com) hotel when you visit Denver, CO: TownePlace Suites Denver Airport at Gateway Park