Recently, Carolyn Worthington, editor-in-chief of
Healthy Aging® Magazine
had the opportunity to visit the Region of Valencia, Spain to learn about the active travel options there. Her experiences, recommendations and insider tips for what not to miss in the Region of Valencia, Spain appear as a five-part Healthy Aging® website series and a feature in Healthy Aging® Magazine. Subscribe here: Healthy Aging® Magazine, the lifestyle magazine that is all about following your passion and what you can do rather than what you can't. Would you like to read the entire article as a PDF? Click here: VALENCIA REGION, SPAIN. HEALTHY AGING MAGAZINE ARTICLE AS PDF
By Carolyn Worthington
Our Final Day… Morella, San Mateu, Peniscola
On our way to La Serratella to catch the race, we had seen what appeared to be a picturesque hilltop fortress off in the distance and a sign pointing to it—Morella.
The place beckoned. We decided to check it out on our last morning…
Morella
As we drove along the CV-14 on the clear August morning, Morella, the ancient walled city perched on a hilltop came into view. I felt like I had stepped back into the 1961 movie El Cid, which starred Charlton Heston and Sophia Loren.
Like in the movie, many battles were held over this town because of its prime property and location between the Ebro River and the Valencian coastal plain. The Greeks, the Romans, the Visigoths, and even the Moors just had to have it.
Even the Plague grabbed it but was ousted in the 17th century after 20 years of clenching the city with an iron fist. Lore goes that someone brought a statue of the Virgin Mary to Morella and paraded it all around with the result of ending the plague. Every six years, a festival to celebrate this feat, called "the Sexenni festival," complete with a procession and dancing, is held for nine days in August.
Morella was at one time a popular place to live. In the 14th and 15th centuries, the population was 9,000. Today, there are some 2,500 people who live there and who primarily focus on tourism.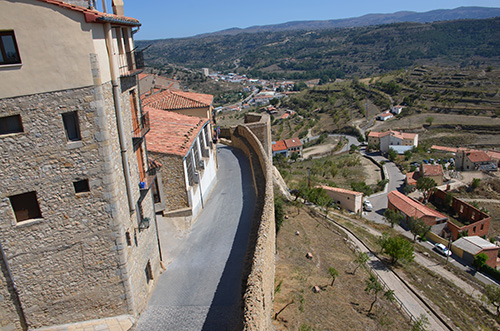 We had the chance to be guided through the ancient town by Angela, a contemporary, upbeat 20-something-year-old guide who gave us a flavor of a place that is much more than just historic sites.
Angela told us that for just a small population, there is a lot going on there with four butcher shops, 10 hairdressers (that's like 240 customers per shop if they share), 15 to 20 bars, and 15 or so restaurants.
With the winding narrow streets filled with staircases to the next street, the stunning views are what make Morella very special.
The young people are hip, too. While many have families in the tourism business, they are well-educated and get out to local towns and beaches just like any other upwardly mobile youth their ages.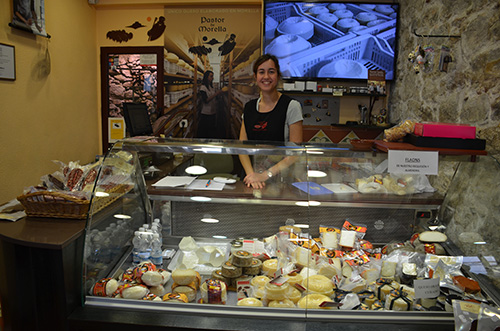 Thanks to Angela, too, I now know what vale means in Spanish, and I can add it to my glossary of Spanish words and phrases. (It means "okay" and everyone says it, just like we do in English).
Highlights to not miss here are the Sanctuary of the Virgen of Vallivana, Castillo de Morella (Morella Castle), the aqueduct, La Iglesia de Santa María Morella(Saint Mary's Church), Convento de San Francesc Morella (St. Francis' Convent), and the Morella Museo Temps de Dinosaures.
For shopping, don't miss out on the local cheese and honey, flaons (a roundish, sweet pastry), and also pick up a horizontally striped, multicolored Morella blanket—a wool and cotton blanket that reflects the heritage of wool textiles dating back to the 13th century.
Visit Morella Tourism to learn more.
Where to Eat
Angela introduced us to Meson del Pastor as the place in town for local specialties. Raquel Ferrer is the second-generation chef for this very popular local restaurant run by her parents for over 30 years. "We try to keep the traditional cuisine while introducing new techniques," Ferrer said. She studied cooking at the School of Hospitality in Castellon and brought back with her many creative and forward-thinking ideas.
The restaurant, obviously popular with the locals and tourists, was packed on the day we had lunch there.
Some of the wonderful dishes that we tried were Croquetas Morellanas, Crujiente de Manitas de Cerdo (crunchy pork), Fideos Fritos con Setas de Cardo y foie (fried noodles with mushrooms and liver), with grand Paletilla de cordero ternasco (lamb shoulder).
Two More Historic Cities to Not Miss
We could not pack much more into this week of sampling what Valencia had to offer, but we did squeeze in two brief stops that you may want to check out:
San Mateu
Iglesia Arciprestal Sant Mateu—Sant Mateu Archiprestal Church with its hexagonal tower is quintessential San Mateu with is combination of Gothic and Romanesque architecture.
Peniscola is otherwise known as the "Gibraltar of Valencia." The Knights Templar built the 13th century castle there. The imposing castle became known as the Castell del Papa Luna after Pope Benedict XIII.
Where to Eat
Casa Jaime Avinguda del Papa Luna, 5 12598 Peniscola
Stop here for traditional cuisine of the area, including seafood and rice dishes.
Back to the Spa
We had waited for this since we had arrived in Benicassim two days ago—an afternoon of pampering and thalassotherapy (Greek for "sea"), which roughly interpreted means use of seawater and other marine products for therapeutic purposes. Sounded pretty good!
Thalasso Hotel El Palasiet
The province of Castellon is known for its many natural mineral springs and medicinal waters. There are a number of designated "Spa Town Resorts" in the province.
Thalasso Hotel El Palasiet is a perfect place to combine a summer beach trip while staying in a classical mansion, boasting a state-of-the-art thalassotherapy center. The hotel has been developing the use of thalassotherapy as a medical treatment for over 40 years. The concept, of course, dates back thousands of years to Roman times and through the 19th and 20th centuries throughout Europe and other countries.
Nestled in a grove of pine trees, the hotel overlooks the Benicassim beach, which is just a two-minute walk away from a quiet corner.
For those who wish for a whole health evaluation and program, this service is offered. Or you can choose à la carte spa treatments, such as a relaxing 40-minute massage, mud bath, shiatsu, foot reflexology sessions, and such services as facials, peels, and a "facial vitalift," described as a global age-defying treatment for mature skins that smooths wrinkles and eliminates puffiness.
The spa offer packages like the "Slimming," a five-day one that includes medical and dietetic supervision, sessions of the phlebtic walking pool, hydro massage baths with algae, weight-training sessions, and more.
If you've ever done circuit training in a gym, you may find the "biomarine circuit" fun. You follow a timed program, starting with the spa's salt-water indoor pool, heated to 96.8 degrees Fahrenheit, followed by waterbeds in the pool, water jets to help with stiff necks and backs, a sauna, and whirlpool baths back in the pool.
We tried the massage (wonderful!) and soaked in the salt-water indoor and outdoor pools. There were moments where we thought that perhaps we had stumbled into the movie Cocoon, wondering if we would look light years younger when we left.
Thalasso Hotel El Palasiet C / Pontazgo, 11 – 12.560 Benicassim
We left the spa with tingling skin and wobbly legs and decided that our last night's dinner needed to be very close by. From our balcony, we overlooked a majestic beachfront hotel and, each evening, watched a steady stream of guests being dropped off by both shabby taxis and gleaming Bentleys.
It was the Hotel Voramar, the Grand Dame of Benicassim. We had to go there for our final dining experience!
Hotel Voramar: The Hotel With a Soul; The Manager With a Passion
We met Rafael Pallaares Dols, director of the hotel. He told us with deep conviction in his eyes about the history of the Hotel Voramar…
Hotel Voramar began in 1930. Since then, the hotel has transformed many times, reflecting the era, from restaurant to a hotel, to a military hospital to a movie theater, and then back to a hotel. The history of the building began, however, some 43 years earlier when it was built as a villa by an engineer with the construction of the Northern Railway as a place where his wife could be during the construction. The town was called Villa Pilar back then.
Looking at the beach area today, which is built like many beaches are today, it must have been a wonderful time before the population grew. The original plan was to build just a social club with a bathroom on the beach. The Voramar Restaurant opened in 1930 with the addition of the hotel three years later.
During the Civil War (1936 to 1939), the hotel was seized by the military and used as a hospital. Post-war, the hotel eventually became popular with visitors from the local area. The '60s, however, brought not only a social revolution but mass tourism to the area. Apartments and new hotels were built seemingly nonstop.
According to Pallares, "The urban development completely transformed the traditional landscape, so that the oldest photos of Benicassim are practically unrecognizable."
Pallares' dedication and sincerity for quality and the importance of sustainability exuded when he spoke of his goals for the hotel. In addition to serving the finest quality, creative, and locally sourced foods to its guests, the hotel is extremely passionate about reducing energy consumption, minimizing waste, and reducing its carbon footprint.
To that end, Hotel Voramar has installed solar energy panels, uses fresh vegetables from its own garden in its recipes, use recycled paper for its paper cups and napkins, make donations to a local nonprofit called Action Against Hunger, and uses an electric car.
To dine at the Hotel Voramar is not only an experience with a breathtaking view but also a chance to taste local Mediterranean recipes with a creative flair. These recipes include artichokes with squid, skewers of shrimp, scallops and octopus with yogurt and mustard sauce, and also lamb shoulder cooked over 12 hours and served with hummus.
That dinner pretty much wrapped it up for us and, ironically, summed up an amazing week-long introduction to the Valencia region.
We saw the classic and the modern in everything: cuisine, lodging, sport, and landscape—even in the people who were excited to meet us and proud to share their country and its passions. We found Valencia to be authentic, safe, welcoming, beautiful, and a perfect destination for those who want to be active while feeling like a local.
Hotel Voramar
Paseo Maritimo Pilar Coloma 1 12560 –
Benicàssim Tel: 964 300 150
Planning Your Trip
The Spain and Valencia tourism websites are a treasure-trove of information and the best places to start your research. You can always find a person to talk to at the tourism departments who are not only knowledgeable but passionate about their country and loaded with insider things to do and see. We found both the Tourist Offices of Spain in the U.S. and the offices located in the Valencia region to be enormously helpful in planning our visit to the region.
Here are some important links:
Tourist Offices of Spain
Province of Castellon
The Valencia Tourist Card (For discounts in shops, restaurants, and for shows)
Tourism in the Region of Valencia
Valencia Tourism Official Site 
Michelin's The Green Guide—Spain 
Tarjeta Dorada— (Card available for "seniors," 60-plus and those with disabilities for the train.)