Cosmopolitan Spain
Active Travel Pick
Why Spain is is a good choice for cosmopolitan active travelers.
Imagine riding your bike leisurely from vineyard to vineyard, stopping to taste a full-bodied cabernet, a fruity, or a sparkling white wine. Picture ending your day with enjoying a dinner made from local ingredients and prepared by a world-class chef. Or, how about a walking tour through medieval villages that are filled with history and romance? Perhaps, you might see yourself on a shopping spree in a trendy city after visiting amazing museums and having lunch at an outdoor cafe watching the world go by.
This could be you when you visit Spain. Here at Healthy Aging, we have done some research on several regions of Spain and offer here recommendations for the active traveler who is seeking unique, local experiences. When planning your next vacation, you might consider:
Extremadura
Like many travelers to Spain, maybe you have already visited Madrid. Why not consider a road trip beyond the city as a good way to really get to know the country and learn more about its landscapes, culture, food, and history. Rather than just drive aimlessly, pick a new theme. Make it Birding in Extremadura.
Catalonia
Where in the World Is Catalonia?
If you've been to Barcelona, then you have been to Catalonia. But Barcelona is just one part of this romantic and gastronomic region, etched with wine trails to discover.
Catalonia is the northern most region of Spain, touching France and the tiny country Andorra. More accurately, Catalonia is one of the 17 "autonomous communities" that make up Spain. These "communities" are in a way like the states in the U.S. Each "autonomous community" has its own flag and capital.
Choose Catalonia to discover wine routes and local cuisine.
Cosmopolitan Travelers Take Note: Make Catalonia, Spain, Your Next Stop
San Sebastian
Foodies and seekers of cultural experiences rejoice! San Sebastian, Spain, the cultural and gastronomic jewel of Europe, is an undiscovered destination not to miss and should move to the top of your travel list.
If you are an active traveler who likes to find unique opportunities from sampling local seafood and farm fresh ingredients to exploring unique historical sites while becoming one with the local culture, San Sebastian is for you.
Valencia
When you think of the Region of Valencia, Spain, images of oranges and paella may first come to mind. And why not? Valencia bears the mantle "the Orchard of Spain" because more oranges are grown here than anywhere else in Spain. Since the Moors introduced rice to the area more than 1,200 years ago, the Region of Valencia has the additional honor of being the birthplace of paella, a rice dish made of chicken, rabbit, and vegetables but no sausage! (More on that factoid later.)
The region is, however, much, much more than rice and oranges, as delicious as they are. It is an amazing part of the world that's made up of delightful contrasts from the beaches along the Mediterranean to the fertile inland and mountainous areas to the west, the cosmopolitan city of Valencia juxtaposed against the old city and the ancient ones in the region like Morella and Sant Mateu.
Active Travel Series: The Region of Valencia, Spain — Part One of Five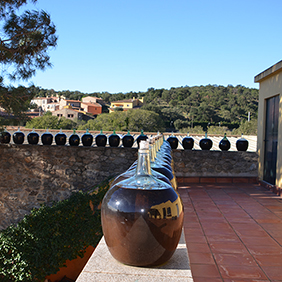 Vinyes del Aspres, a beautiful, family-owned winery in Emporda Province.
Wineries
If you would like to learn about the 26 wine routes of Spain waiting for you to explore, see our Healthy Aging Magazine feature on Catalonia. The list of the routes appears on the last page.
Cycling
Explore Spain by bicycle. Or, choose cycling as a theme such a planning a trip around the annual La Vuelta international bicycle race. Read the feature here: Valencia Region
Gastronomy
Tapas, paella, fideua, pintxos … all await when you travel to Spain.
Cultural activities
There is no end of cultural possibilities in Spain. Visit Bilbao for the Guggenheim Museum, Valencia City for the City of Arts and Sciences.
Important Links for Active Traveler Information: