The following article is excerpted from Healthy Aging® Magazine. To continue reading this article and more like it, subscribe to Healthy Aging® Magazine, the lifestyle magazine that is all about following your passion and what you can do rather than what you can't.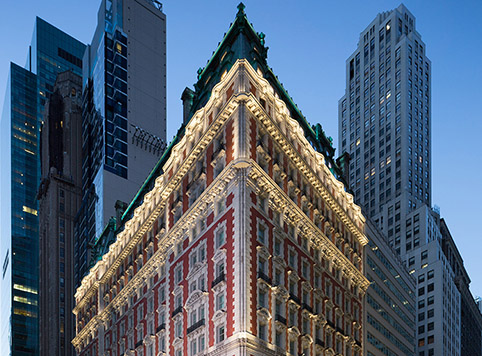 Times Square and The Knickerbocker, A Jewel of a Hotel, Come Full Circle
By David Chauner
These days when you think of Times Square, New York City, you undoubtedly think of Broadway shows, New Year's Eve, the countdown, and the big ball drop.
However, anyone who grew up in the latter half of the 20th century, and visited New York City during those years, may remember Times Square as extremely diverse. On the one hand, there was honky tonk West 42nd Street as, well, the district of decadence. The '60s to the '80s were a period of go-go bars, peep shows, and sex shops for Times Square.
And then, you may have been lucky enough to dine at the fancy Hotel Astor, where perhaps you had a table at the window while eating a shrimp cocktail from a silver dish as you watched the world go by. It's no wonder that the Astor was dubbed the "crossroads of the world" until its demise in 1967.
Times Square today attracts more than 300,000 people per day through what is known as the Times Square Bowtie (7th and Broadway between 42nd and 47th).
A look back at the evolution of Times Square will leave you with the notion that history does, indeed, repeat itself…
History Repeats Itself
Flash back to the mid-1880s when the district was known as Longacre Square, after London's horse and carriage district. Longacre Square was then the site for William H. Vanderbilt's American Horse Exchange, a place for high-end thoroughbred horse trading. It was a large, open space flanked by apartments.
By the early-1890s, this once sparsely settled stretch of Broadway was ablaze with electric lights and thronged by crowds of middle- and upper-class theatre, restaurant, and café patrons.
As the century turned, the area became rife with crime, gambling, and prostitution, which set the tone for what the area would be for many years: a dirty, decadent place.
But then, just like when the 21st century approached, the area would undergo a transformation the likes of which now define New York's history of deep declines and spectacular revivals.
The Early Beginning
Oh, those were the days!
It was the heady start of the 20th century when America was marching to the patriotic beat of John Phillips Sousa, New York City was going horseless, and Madison Square Garden was better known for its six-day bike races than basketball games.
As the century turned, visionaries and speculators were flocking to Longacre Square, displacing dozens of houses of ill repute and horse stables by buying up homes and vacant lots, all in anticipation of the new subway tunnel that would deliver thousands of more people uptown and across town from Grand Central Station.
Real estate mogul, John Jacob Astor IV, shrewdly acquired the then luxurious St. Cloud Hotel overlooking Longacre Square and began hinting that a new hotel of unprecedented refinement and sophistication would take its place as the palatial beacon of the district.
The floodgates burst when the New York Times announced in August 1902 that it would build its new 25-story headquarters at Longacre on top of a new subway station. It was just three avenues away from Grand Central, gateway to the world. The news was so exciting that NYC Mayor George McClellan, Jr. willingly proclaimed that Longacre Square would forever more be known as Times Square.
And so began the modern history of one of the most iconic locations in the world…
The Hotel Knickerbocker Is Born
If the early history of Times Square could be told by the ups and downs of one building, it would have to be the legendary Knickerbocker, boasting 102.5 feet on Broadway, 185 feet on 42nd Street, and 16 feet on 41st in the heart of Times Square.
From early-1901, when the Times first floated the rumor that "a scheme is on foot for the erection of a twenty-story hotel" to when its doors opened for a five-hour showoff reception on October 23, 1906, The Knickerbocker mirrored, if not defined, the turbulent history of the district. From groundbreaking in January 1903 to opening in October 2006, the project was beset with design changes, labor strikes, financing challenges, and owner disputes—issues that plagued many real estate developers then and now. Final price tag: $3.3 million ($85 million in today's dollars).
When all was said and done, the wealth and influence of John Jacob Astor IV prevailed, and The Knickerbocker boasted, in its announcement ad, that guests were promised "everything that the traveler can wish for, that money can buy—the embodiment of all that makes for perfection."
Luxurious Days of 1906
Beneath its 15-story exterior of steel and terracotta with ornamental copper detailing was a dizzying collection of unprecedented amenities and new technology features: 556 luxurious rooms and 390 bathrooms, dining rooms to accommodate 2,000 patrons, a two-story ballroom, several banquet halls, food pantries with electrically heated dumbwaiters on each floor, six newfangled elevators, a pneumatic cleaning system, two giant ice machines churning out eight tons of ice per day, a top-floor assembly hall and library, flower shop, stockbroker office, barbershop, and infirmary. Oh, and a staff of 700 to make sure it all ran smoothly.
Gathering Place of Luminaries
From its heady opening in 1906 to its abrupt demise in 1920, The Knickerbocker catered to the who's who of the era. With the top-end suites costing $25 per night ($625 in today's dollars), the place attracted a steady flow of well-heeled saints and sinners, many of whom established residence there for years.
The most famous of these was Enrico Caruso, the wildly famous Italian tenor whose legendary affairs became as well-known as his impromptu balcony performances.
F. Scott Fitzgerald wrote stories in his room upstairs and courted his future wife, Zelda Sayre, in the downstairs dining room, occasionally throwing $20 and $50 bills around "like so much confetti," according to his biographer, Harold Bloom.
In 1918, 26-year-old Mary Pickford sat at the desk in her room and signed the $1.5 million contract that made her the world's highest paid film star.
Dignitaries, glitterati, and scoundrels loved, fought, campaigned, and even murdered in the Grand Dame of Times Square. Much of this and more is chronicled in The Knickerbocker, written by Eric Enders to chronicle the hotel's vibrant legacy.
Changing Fortunes
Prohibition hit the area hard in 1920 and The Knickerbocker's legendary manager and longtime leaseholder, James B. Regan Sr., had had enough. He clandestinely sold his remaining 40-year lease option back to the Astor estate (John Jacob Astor IV had perished with the Titanic in 1912) for a rumored "big profit."
With no booze to sell, the hotel would likely bleed money, so Vincent Astor, heir to the property, immediately turned it into a high-rent commercial building, and The Knickerbocker's elegant rooms and banquet halls became shoe shops, a train company office, hat emporium, national drug store, and more. Furniture, fixtures, and paintings were sold off.
The Knickerbocker, along with many other Times Square buildings, entered a long period of downward change that lasted through Prohibition, the Great Depression, WWII, and precipitous decline into the decadent 1960s.
Harkening back to the early days of Longacre Square, the district (particularly 42nd Street) once again became a haven to prostitutes, derelicts, burlesque houses, peep shows, and cheap restaurants. In 1981, Rolling Stone declared West 42nd Street "the sleaziest block in America."
Times Square and Knickerbocker Reborn
But you would never know it today. Thanks to a massive cleanup effort that began under Mayor Rudy Giuliani in the mid-1990s, Times Square has one again become the vibrant entertainment center it was a century before. Huge video jumbotrons, a pedestrian-only plaza, and a revitalized theatre district are the modern reincarnations that now (once again) draw tourists and celebrities from around the world.
And finally, after 80 years as an office building, Newsweek headquarters, and textile showplace, The Knickerbocker again mirrors the boom times of Times Square. In 2014, following an investment and renovation costing some $240 million, Texas-based FelCor Lodging Trust opened a thoroughly modern version of the iconic hotel. It is now one of 430 hotels worldwide that meet the exacting standards of the prestigious Leading Hotels of the World organization.
The National Register of Historic Places has assured survival of The Knickerbocker's Beaux-Arts exterior replete with red brick, terracotta details, and prominent mansard roof. But—spoiler alert—you won't step into the past century when you pass through the same Broadway entrance today.
Instead, you'll find a thoroughly modern "monument to New York's coming of age," an elegant luxury lifestyle hotel offering 330 guest rooms on 12 floors, including 40 suites, a fitness center, a 2,200-square-foot floor event space, signature restaurant and bar, ground-level grab-and-go café, and a 7,500-square-foot bar and indoor-outdoor terrace on the roof.
Arguably, it's the rooftop terrace and bar that evoke the unique legacy of the old Knick. Named the St. Cloud after the original hotel that stood on the same plot over a century ago, you can order a martini, supposedly named after the Knick's bartender in 1912, Martini di Arma di Taggia, at the elegant bar; smoke a premium Nat Sherman offered in the cigar lounge, or enjoy an intimate setting in one of several "Sky Pods."
The one in the Northwest corner seats 18 and, for a mere $100,000, a group can book it for the absolute closest front row seat to the Times Square ball drop on New Year's Eve.
There are still a few vestiges of the old hotel's history, including super luxurious tribute suites named after the most famous residents Cohan, Caruso, and Parrish plus Martini, the legendary bartender.
And then there's the spectacular "Saints and Sinners" four-by-five-foot mural at the entrance to the St. Cloud. Nowhere is The Knickerbocker's legacy better depicted than in this intricate and whimsical illustration by New York artist Molly Crabapple of the personalities and events that made The Knickerbocker unique so many years ago.
Times Square and the Knick—once again defining the heart of modern New York City.