You've planned your weekend getaway to the Big Apple with visions of a night out at the theatre, a dinner at a new wave restaurant or one steeped in history. You have a list of the museums you want to hit, shops to visit along 5th Avenue and a hope to get some exercise by a walk or run through Central Park.
While you are excited about visiting the city that never sleeps, you probably hope you can. How to sift through a choice of where to stay when there are more than 75,000 rooms in 270 hotels, with over half of them are in Midtown Manhattan, is mind-boggling. And are there any that won't crush your budget?
Sure you can take a look at the big hotel chains in or near Times Square which boast close to 2000 rooms. But wouldn't it be nice to take in all that Manhattan has to offer knowing you can escape to a seemingly private sanctuary that could be your "home away from home?"
Welcoming Oasis
We had a chance to visit one such boutique hotel with 172 rooms recently and highly recommend it for its welcoming "hometown" but luxurious feel: WestHouse Hotel on 55th Street in between 7th and 8th Avenues.
Centrally located in mid-town Manhattan, WestHouse Hotel is a short walk to Central Park, two and a half blocks from shopping on Fifth Avenue (Bergdorf's, Barney's, Bendel's or Tiffany's anyone?), around the corner from Carnegie Hall and down the street from The City Center.
The hotel staff is extremely welcoming the moment you pull up in your car in front of the hotel or walk through the door. What is particularly striking about this hotel is the quiet, calm feel from the lobby to the rooms. The designers of the hotel sought to create the feel and glamour of a 1920's Carnegie Hall dressing room adding special touches like Art Deco picture rails, tufted leather headboards, director's chairs, dark wood flooring, high ceilings, and marble bathrooms.
If you are like we are, when we find a comfortable bed, we want to take it home or, at least, sneak a peek at the bed tag to ferret out the manufacturer. You will want to take this one home for sure.
Sounds of Silence
The most notable feature of the room for me was how quiet it was. How many times have we all stayed in big city hotels where you can hear every truck rumble down the street hitting the potholes, cabs honking or sirens blaring. Or, sometimes you have been unlucky to be near elevators and hear the opening and closing of the doors or clanking of the operating system.
Not here. It is quiet, quiet, quiet!
We were on a the 23rd floor with an expansive view of Times Square and beyond. The bank of elevators was directly across from our room and we never heard a sound from them.
They get an A+ in sound proof, beautifully appointed rooms!
Resident Privileges
We were lucky to be on the concierge floor, down the hall from a complete buffet which offers full breakfast choices and an extensive happy hour with wine, beer and non-alcoholic options.
Insider tip: there are enough substantial hors d'oeuvres that will temp you to stay in for dinner. The casual seating areas inside open to an outdoor terrace with more comfy chairs and an "above it all" view of bustling Manhattan below. In mild weather, it's an excellent spot to savor your coffee, read the paper on your Ipad, enjoy a cocktail or whisper sweet nothings in your spouse's ear.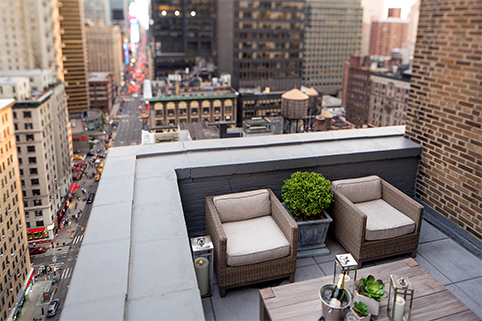 While a breakfast buffet and a happy hour gathering is the norm at many hotels these days, cloth napkins, china and glass service plus an attentive, uniformed wait staff are rarely part of the deal. Not so here. Quality is the norm and the $47 per person price is less than one can easily spend going out to nearby restaurants.
Specifics: The Resident fee is mandatory, $47 plus tax, per day, per person. This is on top of cost of the room. It includes the breakfast (6:30AM to 10:30AM during the week and 7:00AM to 11:00AM on the weekend. A "barista bar" and non-alcoholic beverages are available all day in The Terrace; the happy hour ("Hours of Indulgence") is daily from 5:00PM to 7:00PM; high-speed Wi-Fi access (which works great!), local and toll-free phone calls; 24-hour fitness center and business center services and bottled water in your room (phew! no hefty charge for a water!)
Clever Features Making Your Stay Even More Special
In an effort to truly set themselves apart from other New York hotels and to make guests feel special, the hotel offers special partnerships to enhance the stay.
One such partnership is with DayNa Decker, former Ford model, whose products such as those for the bath are found in the rooms.
For the fashionista, you can book a suite and receive a $100 gift card from Henri Bendel (just around the corner) and a session with one of the store's personal shopper stylists. What fun!
Picnic in the Park
With Central Park so close by, why not choose one of the hotel's "picnic" packages for a special treat. Here are two ideas:
The Central Park Experience
A special treat in the heart of Central Park featuring the meats, cheeses, fresh fruits and crudités as well as a bottle of prosecco. When you arrive at your picnic spot, one of their picnic experts will have everything set up, ready and waiting for you. Classy! $350 for two.
The Romantic Basket
Perfect for a decade birthday or anniversary, choose the "Romantic Basket" picnic. Have a basket delivered to your room and find the perfect picnic spot to celebrate your romance. The basket includes meats, cheeses, olives and jam; as well as a bottle of prosecco as well as a picnic blanket. $200 for two.
Restaurants Nearby
Being so centrally located, there are so many restaurants to choose from very close to the hotel. If you haven't explored Hell's Kitchen (34th to 59th Streets), you will find many unique neighborhood restaurants worth a try.
Thumbs up!
All in all, WestHouse Hotel is a welcoming headquarters for any visit to the Big Apple. Great rooms, terrific amenities and fabulous attention to detail, right down to the two complimentary bottles of Smart Water every night. Plus this boutique hotel is reasonably priced…we give it a huge thumbs up!
All photos used with permission from WestHouse Hotel.