Whoa, hold your horses! Dude ranches are for summer vacations, you say. Not so! For a vacation to remember, consider a winter experience at a dude ranch.
Take for example, the Bar W Guest Ranch in Whitefish, Montana. Sure, this is the perfect summer place to ride horses and enjoy the short but gorgeous Montana summer season. But winter … that's an over-the-top experience to consider.
The Winter Adventure at Bar W and Whitefish, Montana
Whitefish, Montana is located in the Northern Rocky Mountains of Montana. Bar W, located on Spencer Lake in Whitefish, offers winter season bed and breakfast stays, sleigh rides and more. You can even can rent the entire lodge or cabin as a vacation home. This is perfect for extended families or a group of friends. They tell us they very much welcome solo travelers too.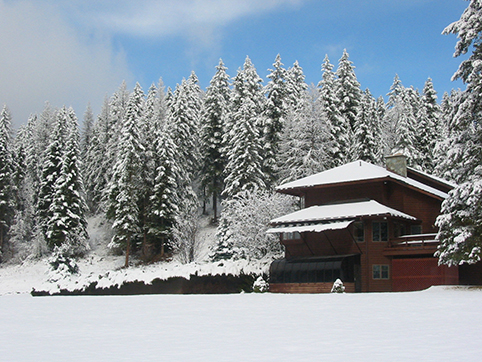 At Bar W, you can choose to stay in the main lodge or a rustic luxurious log cabin. After a day of skiing, jump into the outdoor hot tub, go for a sleigh ride, play scrabble or scroll your photos on your cell and enjoy a glass of wine in front of the fire.
Active Travelers Love Montana in the Winter
Here are some of the amazing things you can do in Whitefish, Montana with Bar W as your ranch away from home.
Whitefish Mountain Ski Resort
Looking for powder? You can head over to Whitefish Mountain Ski resort located only a little over 11 miles away. Lift lines are short, people are over-the-top friendly and there is plenty of powder.
The mountain opens December 6, 2018 and the season will continue through early April. Making Bar W your base camp is a great change of pace for apres ski than a condo!
Lift tickets are reasonable and seniors are offered discounts.
A fun thing to do is Moonlight Dine & Ski …  a dining adventure 7000 feet up at the Summit House. Getting there and back is part of the experience. Ride the ski lift up. Have dinner overlooking the snowcapped peaks of Glacier National Park and the flickering lights of Flathead Valley. Then choose to ski down or ride the chairlift back down. An amazing  experience!
Cross Country Skiing
Prefer cross country? There are three cross country ski areas within just a few miles of the ranch boasting over 200 miles of groomed trails.
Winter Fat Biking
There is a large network suitable for beginners on up to advance fat bike rider accessible a short distance from the ranch. The Whitefish Trail System is free to the public and bikes can easily be rented.
Backcountry Skiing
The ranch offers backcountry skiing in partnership with Great Northern Powder Guides for endless untracked powder runs.
Snowmobiling
You can rent a snowmobile in the area for exploring the miles of trails around the ranch.
Dog Sledding
Whoooo hoooo! Ever tried dog sledding? Perfect for all ages, dog sledding is available just a few miles from the ranch.
Contact Dog Sled Adventures just minutes from Whitefish and Bar W. They do some 500 sled tours every winter. They say they have a favorite trail they have named "Eskimo roller coaster," which runs about 12 miles. They operate from the beginning of December through the end of March. Tours last about an hour and a half … dress warmly!
Ice Fishing
There are numerous lakes to choose from to catch pike, trout, perch and more. Bring your own gear. You'll have to have a valid fishing license, of course. For information: Montana Fish, Wildlife & Parks fishing regulations. There are a number of lakes to explore such as Flathead Lake and Whitefish Lake. See the map of Lakes of Glacier Country to learn more.
Ice Skating
Bring your skates and twirl around at the local ice rink. Hockey, your thing? Jump into a game at the Stumptown Ice Den. Over 60? You might want to check out their "Over 60" hockey.
Downtown Whitefish
Explore downtown Whitefish. Go shopping, visit a day spa and eat at any one of the many terrific restaurants there serving local, upscale or international fare. Stroll through the art galleries, attend the theater, check out the craft breweries and distilleries. Take an afternoon nap and get ready for the lively nightlife.
Snowshoe Tours in Glacier National Park
How about snowshoeing? Head over to nearby Glacier National Park for snowshoe tours offered by Glacier Adventure Guides, a year-round guide service for Glacier National Park and the surrounding area. According to Glacier Adventure Guides, "snowshoeing Glacier National Park in winter is magical; snow hanging in the cedars, frozen lakes, waterfalls and desolate peaks create a landscape unlike any other."
They rent snowshoes and ski poles. A typical tour includes heading to a scenic spot for lunch along with hot drinks and group photos.
Beginners are welcome!
To learn more about a dude ranch vacation, visit The Dude Ranchers' website. To plan a visit to Bar W this winter or for a horseback riding adventure during the season, visit Bar W Guest Ranch website.