The following article is excerpted from Healthy Aging® Magazine. To continue reading this article and more like it, subscribe to Healthy Aging® Magazine, the lifestyle magazine that is all about following your passion and what you can do rather than what you can't.
With the holidays behind us, and still plenty of winter ahead, our thoughts turn to comfort and healing foods. Three cookbooks to get you through the winter doldrums while helping you to eat such nutritious meals are here. Check out our reviews and sample one recipe from each book.
Want more? Subscribe to Healthy Aging Magazine!
The Winter Table, Fireside Feasts for Family and Friends
By Lisa Lemke, The Winter Table is the perfect book for ideas on what to prepare when your thoughts go to preparing an aromatic, bubbling stew or comforting soup. Lemke, a freelance food consultant and television chef lives in a small town on the west coast of Sweden. Her soul-satisfying dishes range from a savory rye risotto with oyster mushrooms browned in butter, to mouthwatering roasts and casseroles, to blazingly hot chili, and even good old mac 'n' cheese. To die for desserts include an apple toffee, almond crumble and sublime tiramisu.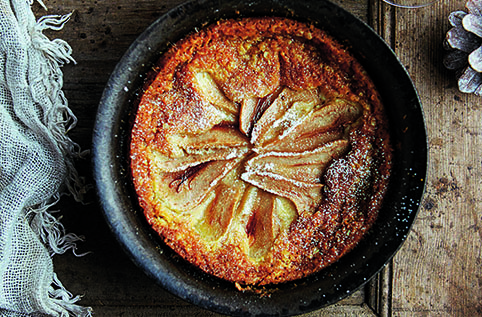 Crispy Pear Cobbler
Makes 4 servings
4 soft pears, preferably Anjou or another slightly acidic variety
Peel and juice from ½ orange (preferably organic)
Juice of ½ lemon
10 tablespoons butter
¼ cup heavy cream
¼ cup corn syrup
¾ cup rolled oats
¾ cup flour
1 teaspoon baking soda
2 pinches of salt
¾ cup sugar
Preheat the oven to 350°F. Peel, core, and slice the pears very thinly. Put them in a large bowl with the orange peel, orange juice, and lemon juice. Set aside.
Melt the butter in a cast iron or other ovenproof pan, about 9 inches in diameter, with high sides. Add the cream and corn syrup and stir. Add the oats, flour, baking soda, salt, and sugar. Stir to combine. Gently press the pear slices into the mixture in the pan. Set the pan on the middle rack in the oven and bake for about 25 minutes or until the top has turned golden brown and the sides are nicely caramelized.
Reprinted with permission from The Winter Table © 2017 Lisa Lemke. Published by Sterling Epicure. Photography by Magnus Carlsson.
Honestly Healthy for Life, Eating the Alkaline Way Every Day
Not an hour goes by without ads for products to reduce acid in our systems. If you feel the need to reduce acid in your diet, to the rescue is Honestly Healthy for Life, Eating the Alkaline Way Every Day by Natasha Corrett and Vicki Edgson.
Organic gourmet vegetarian chef, Natasha Corrett, and nutritional therapist Vicki Edgson combine their expertise to share their ideas on the principles of alkaline eating in their more than 270-page hardcover book. This fully illustrated guide with beautiful color recipe photos outlines the principles and how to incorporate them into everyday life. Alkalizing and acid-forming foods are identified. Charts are here with alkaline ratings for common foods. They give advice on how to create an alkaline-based pantry and offer more than 100 easy-to-prepare recipes for every occasion.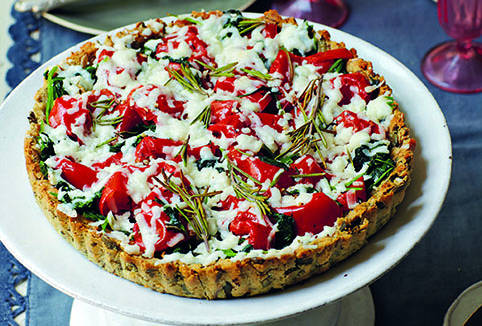 Roasted Tomato and Spinach Tart
Makes 4 servings
For the crust
2 ¼ cups ground almonds
2 sprigs rosemary
4 tablespoons sunflower oil/li>
½ teaspoon caraway seeds
A pinch of Himalayan pink salt
1 tablespoon water
Generous cup raw pumpkin seeds
1/3 cup raw sunflower seeds
For the topping:
1 lb 2 oz tomatoes
2 cloves garlic
4 tablespoon olive oil, plus 1 teaspoon
1 tablespoon picked thyme leaves, plus a few sprigs
½ teaspoon Himalayan pink salt
¼ teaspoon cracked black pepper
2 tablespoon balsamic vinegar
14 oz. spinach leaves
2/3 cup hard goat's cheese, grated
Preheat the oven to 325°F and line a 7½-inch tart or cake pan with parchment paper. You'll also need a baking sheet lined with parchment paper. Pulse the ground almonds, rosemary, sunflower oil, caraway seeds, salt, water, and half the pumpkin seeds until smooth and set aside.
Then pulse the rest of the pumpkin seeds and the sunflower seeds, but only for a few seconds to ensure you are keeping some texture for the crust. Mix the seeds into the ground almond mixture. Combine thoroughly until the mixture starts to come together. Press it into the prepared pan and bake for 25 minutes until golden.
Meanwhile, quarter the tomatoes and finely chop the garlic. In a large bowl, make a marinade from 4 tablespoons of the olive oil, the thyme, salt, pepper, and vinegar and add in the garlic. Toss the tomatoes in the marinade then tip out onto a baking sheet and roast for 8 minutes. Remove from the oven and set aside.
Meanwhile, wilt the spinach by pouring boiling hot water over it in a colander and then cool it down by running cold water over it over the sink. Once cooled, squeeze out all the excess water and finely chop or blitz the spinach with a teaspoon of olive oil. Remove the crust from the oven and scatter the spinach over the base of the tart, top with the roasted tomatoes, and then sprinkle over the grated goat's cheese.
Garnish with a few sprigs of thyme and then bake for another 15 minutes, until the cheese has melted. Serve straightaway and enjoy.
Reprinted with permission from Honestly Healthy For Life © 2014 by Natasha Corrett and Vicki Edgson, Sterling Publishing Co., Inc. Photography by Lisa Linder.
Italian Moms
Who better to get you through winter but Italian mothers? Now, there is a book celebrating tried-and-true Italian food from a mom who knows what it means to cook from the heart. In her debut cookbook, Italian Moms, Elisa Constantini gathers family recipes that she has been making for her own family and friends for years. Her rustic, authentic recipes call for only fresh, simple ingredients available at local markets. This book preserves Italian culture and aims to renew the lost art of "true" Italian cooking.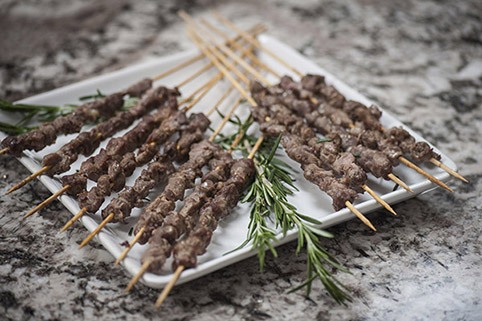 Grilled Lamb Skewers
Makes about 3 dozen skewers
For the topping:
3 pounds lamb
½ cup olive oil
Pinch fresh black pepper
Fresh rosemary
Salt and fresh black pepper
Wooden skewers
Soak the wooden skewers in a bath of cold water for 1 hour. Trim all the fat and cut the meat into very small pieces or ½-inch cubes. Thread the meat onto the skewers, up to 1-inch from the top. There should be 5 inches of meat on each skewer.
Line the skewers on a cookie sheet with the handle parts of the skewers hanging off the cookie sheet, and pour the olive oil over the meat. Garnish with some salt, pepper, and fresh rosemary and allow to marinate for 1 hour in the refrigerator.
Remove the skewers from the refrigerator and place on a brazier and cook on the grill for 10 minutes, 5 minutes on each side. Brush the skewers with fresh rosemary stalk dipped in olive oil while cooking and salt to taste. Remove from the grill and serve.
Reprinted with permission from Italian Moms. Published by Sterling Epicure. Photography by David and Gabriela Versano.