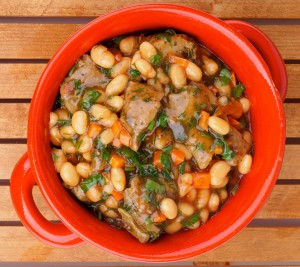 The average American will take in at least 2,400 calories during the four-hour big game this Sunday, according to the Calorie Control Council. That adds up to more than 19 million pounds of chips and nearly 1 billion chicken wings, according to the Snack Food Association and the National Chicken Council respectively.
"But what many people don't realized is that they can still enjoy all the same types of foods and flavors they're used to but make them much healthier with just a few ingredient swaps and shortcuts," said Ana Goldseker, Director of Nutrition for Nava Health and Vitality Center. "Try sapping out select ingredients from the usual party platters with healthier alternatives."
Goldseker, a certified nutritional consultant and director of nutrition for Nava Health and Vitality Center has created makeovers of some of the favorite Super Bowl party treats.  She has not taken any of the fun out of these recipes, just made them better for you.
Cajun Bean Chili
1 medium yellow onion, chopped
1 medium yellow or red bell pepper, diced
3 cloves garlic, pressed
1 teaspoon paprika
1 tablespoon chili powder
1/2 teaspoon dried thyme
1/2 teaspoon dried oregano
1/2 teaspoon fennel seeds
1 teaspoon cumin
1/8 teaspoon cayenne pepper
1 – 15oz. can of kidney beans
1 – 15oz. can of diced tomatoes
Optional: cooked ground turkey
Chop onion and press garlic. Let sit for 5 minutes to bring out the full health benefits of each. Saute onion and bell peppers for 5 minutes. Add garlic, spices, tomatoes and kidney beans. Simmer for 15-20 minutes. Season to taste with salt, pepper and olive oil.
Gluten-Free Chicken Meatballs
1 cup zucchini, chopped (about 1 zucchini)
1 cup carrots, chopped (about 2 carrots)
1/2 cup parsley, coarsely chopped
3 medium gloves garlic
1/4 cup blanched almond flour
1 egg
1 pound boneless skinless chicken breasts
1 teaspoon Celtic sea salt
1/2 teaspoon ground pepper
1/4 teaspoon chili powder
Preheat oven to 350 degrees. In a food processor, pulse together zucchini, carrots, parsley and garlic. Add almond flour, egg and chicken. Then add salt, pepper and chili powder and process until thoroughly combined. Drop tablespoon sized balls of the chicken mixture onto a parchment lined baking sheet. Bake meatballs for 20 to 25 minutes and then serve.
Chipotle Barbeque Sauce
1/4 cup extra virgin olive oil
1 medium onion, chopped
6 to 8 cloves garlic, peeled and coarsely chopped
1 24oz. jar strained tomatoes
1/2 cup grade B maple syrup
1/2 cup apple cider vinegar
1 tablespoon blackstrap molasses
2 teaspoons Herbamare or sea salt
1 to 2 teaspoons chipotle chili powder
1/2 to 1 teaspoons ground black pepper
Heat a 3-quart pot over medium heat. Add olive oil and let it heat up for a minute, then add in onions. Saute onions in oil for about 10 minutes, or until very soft and golden brown. Add garlic and saute one minute more. Add remaining ingredients, stir, cover and simmer on medium-low heat for about 10 to 15 minutes, stirring occasionally. Remove from heat and transfer sauce to a blender and blend until smooth. Taste and adjust salt and seasonings to your liking, then serve. Store any unused sauce in a glass far in the refrigerator for up to 10 days, or freeze for longer storage.
Baked Carrot Fries
6 large carrots
2 tablespoons olive oil
1/2 teaspoon Celtic sea salt
Cut each carrot into 2-inch long sections. Cut each section into thin sticks. In a large bowl, toss carrot sticks with olive oil and salt. Spread out carrot sticks on a parchment paper lined baked sheet. Bake at 425 degrees for 18 to 22 minutes until carrots are browned. Let cool and serve.
Gluten-Free Biscuits
2 cups blanched almond flour
1/2 teaspoon celtic sea salt
1/2 teaspoon baking soda
1/2 cup coconut oil
2 eggs
1 tablespoon agave nectar
In a medium bowl, combine almond flour, salt and baking soda. In a large bowl, blend together buttery spread, eggs and agave. Stir the dry ingredients into the wet until a nice dough forms. Roll out dough between 2 pieces of parchment paper to 1 1/2 inches thick. Using a spatula, transfer biscuits to a parchment lined baking sheet. Bake at 350 degrees for 15 minutes or until biscuits are browned on the bottom edges. Serve with gravy, jelly or whatever else you like!
Marinated Mushrooms
2 lbs. fresh mushrooms
1 tablespoon lemon juice
1 tablespoon cider vinegar
1 tablespoon onion powder
1 tablespoon minced garlic
1 tablespoon chopped parsley
1/2 teaspoon salt
1/2 teaspoon liquid sweetener (such as stevia)
1/2 teaspoon oregano
1/8 teaspoon black pepper
Wash mushrooms and trim bottoms off stems. Place in a large saucepan and cover with water; add lemon juice, mixing well. Bring to a boil and simmer until mushrooms are just tender (no more than 5 minutes). Remove from heat and drain liquid from pan. Combine remaining ingredients in a storage container large enough to hold all the mushrooms and mix well. Add mushrooms to storage container, cover, shake vigorously and refrigerator 24 hours before serving.
Butter Cookies
1/2 cup very soft coconut oil
1/2 cup honey
1 egg, lightly beaten
1/4 teaspoon salt
1 teaspoon baking soda
Additional almond flour as needed for rolling pin and cutting surface. For ginger cookies, use 1 1/2 teaspoon ginger, 1/2 teaspoon cloves, and 1 teaspoon cinnamon
For sugar cookies, use 1 1/2 teaspoon nutmeg
Cream together butter and honey. Add lightly beaten egg, salt, baking soda, and the desired spices for Ginger or Sugar flavored options. Add almond flour and stir until well combined. Divide dough in half and put on 2 large sheets of plastic wrap. Form the dough into balls then press down into flat patty roughly 1/2 inch think. Refrigerate dough for 1 hour. Preheat oven to 350 degrees. Roll dough out on floured surface to 1/4 inch thickness and cut dough using cookie cutters. Bake cookies, 1 inch apart, for 7 to 10 minutes.
Gluten-Free Rice Crispy Bars
Crispy Bars:
1/2 cup organic untreated coconut oil
1/2 cup unsweetened cocoa powder or chocolate powder
5 tablespoons maple syrup
Pinch of fine grain sea salt, to taste
1 teaspoon pure vanilla extract
1 cup rice crisp natural cereal
Peanut Butter Shell Drizzle:
2 tablespoons all-natural organic peanut butter
1 1/2 to 2 teaspoons coconut oil, as needed
1 teaspoon maple syrup
For Crunch Bars: Line a 9×5 inch loaf pan with 2 pieces of parchment paper, one going each way. In a pot over low heat, gently melt the coconut oil and then whisk in the rest of the crunch bar ingredients (except the rice crisp cereal) to taste. Once the mixture is smooth, remove from heat and stir in the cereal. Pour mixture into prepared pan, smooth out, and then freeze for 10 to 15 minutes or until the chocolate is solid.
For Peanut Butter Drizzle: Melt the coconut oil and then whisk in the peanut butter and maple syrup (or liquid sweetener). Adjust to taste if desired. Scoop into a plastic baggie. Remove crunch bar from freezer and cut into 12 small bars. Snip a tiny hole in the baggie and drizzle the mixture onto the bars.
Return bars to freezer until drizzle is solid (about 5 minutes). Serve straight from the freezer or fridge. Bars will melt slightly at room temperature so don't keep them out for long! Store leftovers in the fridge or freezer.
Caramel Apples
1 cup maple syrup or agave
1 1/4 cups heavy cream (or coconut milk)
1/2 teaspoon Celtic sea salt
Sliced apples, for dipping
Heat agave in saucepan until tiny bubbles form around the edges – a very low simmer. Continue heating agave this way for 5 minutes (this reduces the water content of the agave). Add heavy cream or coconut milk and salt, then bring mixture to a boil. Reduce heat to an active simmer; continue to simmer for 7 to 10 minutes. Remove mixture from heat when the caramel reaches a darker nutty color. Place saucepan in a large bowl of ice water to cool and thicken caramel mixture. Place a large bowl of apple slices on the table. Serve caramel in individual ramekins.
There you have it! Nine different (and tasty!) ways to enjoy the standard Big Game cuisine in new and healthier ways. Enjoy!
Nava Health and Vitality Center, an integrative wellness brand, with located throughout the Maryland and D.C. area.