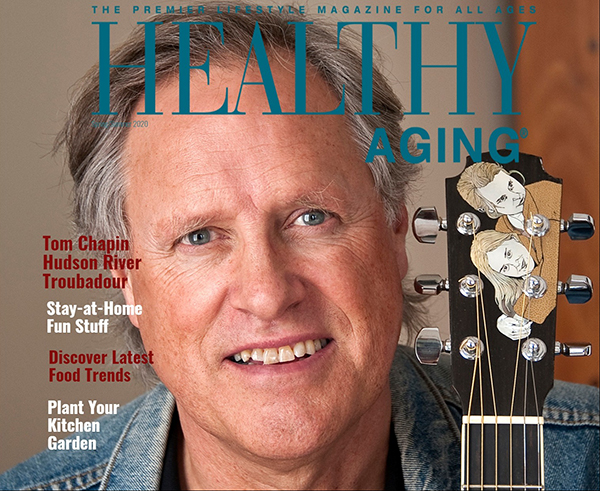 The following article is excerpted from Healthy Aging® Magazine. To continue reading this article and more like it, subscribe to Healthy Aging® Magazine, the lifestyle magazine that is all about following your passion and what you can do rather than what you can't.
Tom Chapin, Grammy-winning singer/songwriter, sometimes known as the Troubadour of the Hudson Valley, recently turned 75 and says he has no plans to retire.
"Musicians don't retire," Chapin said. "They just reload!"
Chapin's career spans six decades with results of 26 albums and three GRAMMY awards, In addition to his work as a recording artist and concert performer, Chapin has acted on Broadway, as well as working extensively in television, radio and film.
"I'm at that place in my life where I follow what interests me," Chapin said. "I still love the guitar. I still love to sing. And I still love the thrill of creation—a good song, a good recording, a good concert. I feel blessed to be my own boss, creating my own material and performing for so many different audiences, ages, and generations."
Enter COVID-19
COVID-19 has put a curve in the road for everyone. And musicians are no exception. Concerts have been postponed or canceled for at least several months. No one is sure what the future of live concerts will be.
Tom and his daughters, Abigail and Lily, were set to lead a musical cruise to Alaska this past May, but, as with many other events, it has been postponed.
Chapin's 75th birthday concert, which had been scheduled to occur at The Towne Crier https://www.townecrier.com/ in Beacon, New York, but, even with limited attendance, that was canceled, too.
All of Tom's bookings are gone for the foreseeable future.
So, now what?
How the Chapins Are Turning the Tide—Concerts at Home
Abigail and Lily who inspired Tom to create his adult-friendly children's songs perform as The Chapin Sisters. He has five grandchildren: two 4-year-olds on the East Coast, and three grandchildren on the West Coast, ranging in age from 10 to 15. He has written songs for each of them.
As with all their upbeat music, the Chapins have put a positive spin on sheltering in place. The family is self-isolating at home together, including his two daughters, their husbands, and two of his grandchildren.
Every morning, Tom, Abigail, and Lily, with occasional appearances by his granddaughters and sometimes the family dog, Wiley, offer a 30-minute live family show, "Mornings with Papa Tom," at 11 a.m. from their living room on Facebook and Instagram and archived on YouTube.
"For me, it's been revisiting songs because, for the past 10 years, I've been doing more adult songs as a singer-songwriter," said Tom. "We do five or six songs, and my daughters join in. It's been great for us and wonderful for listeners."
The show receives supportive comments from all kinds of people around the world who are sheltering in place. The Chapins have heard from listeners located across the U.S. as well as countries such as Bermuda, Canada, England, France, Ireland, Mexico, Panama, and Poland.
Many viewers talk of feeling lonely, sad, stressed, and missing family members whom they are now physically separated from.
The show brings joy, many memories, and a structure to the day. They say this half-hour gives them a sense of family, seeing the three generations interact.
The Chapins have set up ways to accept small donations for whoever is so inclined. They have launched a PayPal, a Patreon, and a Venmo account.
"This may be the way it is for a while, so we are learning this online thing. My whole life has been about if a door goes ajar, be open to new things" Tom said. "This has been a good trait to have in this crazy world. It has been hard for us musicians with streaming taking away our livelihood and now live concerts out."
To sum up life so far so well-lived, Tom said his greatest accomplishment would be, "The life I am living. This world, especially the creative world, can really beat you down. I have a personality that doesn't get angry. Also, the family we grew up in. It's the life, the creative life. And to have the family life with a big shout out to my wife, Bonnie, would be my biggest accomplishment."