More athletes, especially everyday athletes, compete at older ages thanks to more sophisticated training and greater knowledge of the impact of nutritious foods on the body. Just look at tennis star, Serena Williams, retiring now at 40; football quarterback Super Bowl champion Tom Brady, not ready to hang up his cleats even though he is 45.
All these athletes have benefited from more sophisticated training and, no doubt, from knowing how their diet affects performance.
Most likely, you are an "everyday athlete," but like the pros, you can benefit from taking a closer look at what you put into your body and how you feel when you exercise, just like the pros.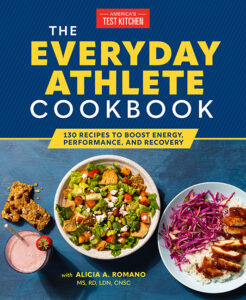 To help you make sense of what you should and should not eat to bring out your inner energized athlete, Alicia Romano, clinical dietician and nutritionist, has teamed up with America's Test Kitchen, the famous cooking show and brand that produces cookbooks and other media, to publish the informative cookbook, The Everyday Athlete Cookbook, 165 Recipes to Boost Energy, Performance, and Recovery.
The authors cover science-backed principles of sports nutrition. They recommend "the perfect plate" of a 3-to-1 ratio of fueling carbohydrates to sustaining protein. No low-carb diet advice here.
The recipes are designed to boost energy, optimize performance and improve recovery. Ideas for snacking pre-, pro-, and post-workout are included. For example, try rice cakes with a tablespoon of nut butter and honey one to two hours before your workout. Or low-fat chocolate milk within an hour after your workout for recovery.
Each recipe leads off with ideas on "When to Eat," for what type of workout, and a section of "Why This Recipe Works," followed by the recipe.
Here are three of our favorites.
Lemon-Herb Couscous with Chicken and Dried Cherries
Makes 2 servings
When to Eat
Pre-Workout 3 to 4 hours before
Post-Workout Within 2 hours
Workouts
Everyday
Endurance: Increase couscous and boiling water to 1 cup each. Strength or Interval: Increase chicken to 8 ounces.
1 tablespoon extra-virgin olive oil, divided
1 tablespoon lemon juice
1 small shallot, minced
1 garlic clove, minced
¾ cup boiling water
¾ cup couscous
½ teaspoon table salt, divided
1 (6-ounce) boneless, ­skinless chicken breast, trimmed and cut into ­3/4-inch pieces
1/8 teaspoon pepper
2 tablespoons chopped dried tart cherries
¼ cup chopped fresh dill, parsley, mint, and/or tarragon
Why This Recipe Works
For an easy, flavor-studded couscous to satisfy the busy athlete, there's no need to settle for flimsy box instructions—and forget that dusty spice packet. You'll toss this loaded, herbaceous couscous dish together in no time, and you won't need to reheat it when you take leftovers to the gym or work.
Cutting chicken into small pieces and incorporating them into the dish gives it on-the-go capabilities—no knife and folk needed. The combination of bright lemon juice, shallot, and garlic contrasted against recovery-promoting dried tart cherries and fresh herbs means you'll want to ­double the recipe for easy meals all week long.
For an accurate measurement of boiling water, bring a kettle of water to a boil and then measure out the desired amount. This recipe can easily be doubled using a 10- or 12‑inch skillet.
Whisk 2 teaspoons oil, lemon juice, shallot, and garlic together in small bowl; set aside. Combine boiling water, couscous, and 1/4 teaspoon salt in large bowl. Cover and let sit for 10 minutes. Fluff couscous with fork; set aside.
Pat chicken dry with paper towels and sprinkle with remaining 1/4 teaspoon salt and pepper. Heat remaining 1 teaspoon oil in 8- or 10-inch skillet over medium-high heat until shimmering. Add chicken and cook until lightly browned on all sides and cooked through, 3 to 5 minutes.
Transfer chicken to bowl with couscous. Add oil-shallot mixture, ­cherries, and dill and gently toss to combine. Season with salt and ­pepper to taste. Serve warm or at room temperature. Meal Prep
Couscous with chicken can be refrigerated for up to 3 days.
To continue reading this article and more in Healthy Aging Magazine, SUBSCRIBE or LOG IN
Recipes and photos used with permission from The Everyday Athlete Cookbook, 165 Recipes to Boost Energy, Performance, and Recovery, America's Test Kitchen. Photo: Daniel J. Van Ackere.