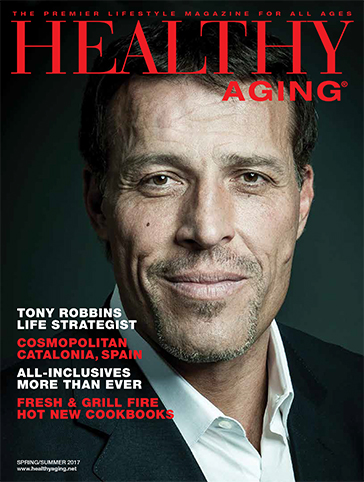 The latest issue of Healthy Aging Magazine has been published.
Travel the world through this special issue featuring unique places to visit, tips on what to wear, financial freedom articles, book reviews, recipes, fashion and more.
You will love the gorgeous photography, thought-provoking articles, easy to read and maneuver, digital edition. While some of the articles will be excerpted on the Healthy Aging website, to enjoy the full articles, a paid subscription is required.
Here's a sampling:
Tony Robbins … Life Strategist
New book by Tony Robbins, Unshakeable, offers tools to achieve financial goals
Cosmopolitan Catalonia, Spain
Amazing wine and food tours of Catalonia, Spain for the active traveler. Read an excerpt here.
Summer Cookbook Blockbusters
Two exciting, new cookbooks using fresh ingredients to add to your repertoire.
Put a Little Music in Your Heart
What is it about music that touches our soul?
Spring / Summer Product Review
Health and beauty product review
All-Inclusive or Pay-As-You-Go?
All-inclusives have become more all-inclusive
Yo! You Go Girl! Inspirational Phyllis Sues
Motivational profile of one woman who keeps going no matter what the obstacle
The Quest for Pearly Whites
Should you or should you not whiten your teeth? Review of products and techniques
Another Language At Any Age
It's not too late to learn another language. Important learning techniques shared
And lots more …
Indie movie reviews, latest fashion ideas, self-improvement and retirement feature articles, health, finance and recipes.
Not a subscriber? See below.
Subscribe to Healthy Aging Magazine, the lifestyle magazine that is all about following your passion and what you can do rather than what you can't.