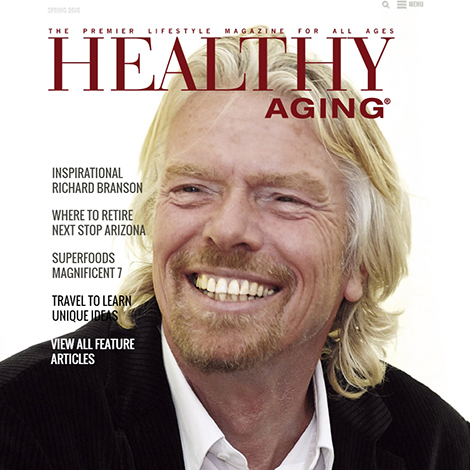 The latest issue of Healthy Aging® Magazine has been published and it will not disappoint. Chockful of information and tips on healthy lifestyles, this quarter's issue has something for everyone.
Richard Branson Releases Latest Book and Continues to Inspire
Sir Richard Branson is the cover feature of Healthy Aging Magazine chosen for his constant ability to inspire others and to re-invent himself. Learn more about him and his latest book, The Virgin Way…If It's Not Fun, It's Not Worth Doing.
Travel to Learn
Active travel ideas. Dance, cook, paint, ride. Unique travel ideas are reviewed.
Superfoods are hot
Explore the superfoods that are healthy and delicious from kale and seagreens to quinoa and chia. Recipes galore.
Tennis, Anyone?
How tennis became one of America's favorite lifelong sports. Places to go to brush up on your strokes and enjoy an active vacation.
Clean Up Your Act: The Power of Spring Cleaning
Tips and tricks to make your house sparkle
Trending Now: Terrariums
Ideas for creating mini gardens indoors even if you don't have a green thumb
Culinary Entrepreneurs Star at Artisan Exchange
Boutique food producers co-op together under one umbrellaIdeas for creating mini gardens indoors even if you don't have a green thumb.
Where to Retire Series: Next Stop Arizona
Arizona is on the rise for one of the most popular states to retire and why wouldn't it be when it has so much to offer?
And more…
Columns on Health, Finance, Food, Women's Fashions, Recommended Books.
Gorgeous photography, thought-provoking articles
You will love the full-color, easy to read and maneuver, new digital edition with stunning photography. While some of the articles will be excerpted on the Healthy Aging website, to enjoy the full articles, a paid subscription is required.
Not a subscriber? See below.
Subscribe to Healthy Aging Magazine, the lifestyle magazine that is all about following your passion and what you can do rather than what you can't.