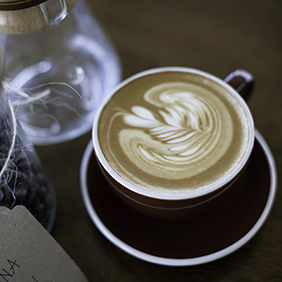 Next to water, coffee is at the top of the chart for America's favorite beverage. More than three-quarters of American adults drink coffee, so says the National Coffee Association, with most considering their cup of joe to be "an affordable luxury."
However, for years, the poor bean that naturally contains caffeine has been the target of many a myth.
How many of us heard warnings not to drink coffee when we were kids because it would "stunt our growth," or later in adulthood that it would cause hypertension or cancer?
Good news: many new and old studies have taken the steam out of those coffee myths.
If you love to wake up and smell the coffee, you can rest assured that not only does your daily caffeine fix make you feel good but it might be a healthy choice.
Recent research shows that drinking coffee may lower risks of different cancers and diabetes, might help with ringing in the ears, reduces the risk of heart disease, and contains helpful antioxidants.
Coffee Lowers Type 2 Diabetes
People who increased the amount of coffee they drank each day by more than one cup over a four-year period had a 11% lower risk for type 2 diabetes than those who made no changes to their coffee consumption, according to a new study led by Harvard School of Public Health (HSPH) researchers. In addition, the study found that those who decreased their coffee consumption by more than a cup per day increased their type 2 diabetes risk by 17%.
"Our findings confirm those of previous studies that showed that higher coffee consumption was associated with lower type 2 diabetes risk," said Shilpa Bhupathiraju, lead author and research fellow in the Department of Nutrition at HSPH. "Most importantly, they provide new evidence that changes in coffee consumption habit can affect type 2 diabetes risk in a relatively short period of time."
"These findings further demonstrate that, for most people, coffee may have health benefits," said Frank Hu, senior author and professor of nutrition and epidemiology at HSPH. "But coffee is only one of many factors that influence diabetes risk. More importantly, individuals should watch their weight and be physically active."
Coffee Might Have Positive Affect on Tinnitus
Women who consume higher amounts of caffeine may have a lower risk of developing tinnitus — a steady ringing in the ear — than women who consume less, according to another study by a Harvard School of Health (HSPH) researcher and colleagues.
Looking for cool places for a hot coffee?
Check out Daylight Mind in Hawaii and Four Barrel Coffee in San Francisco to start… COOL COFFEE SPOTS.
**Photo courtesy of Daylight Mind Coffee Company, www.DaylightMind.com, Kailua-Kona, Hawaii. The perfect spot for coffee.
To continue reading this article and more like it, subscribe to Healthy Aging Magazine, the lifestyle magazine that is all about following your passion and what you can do rather than what you can't.