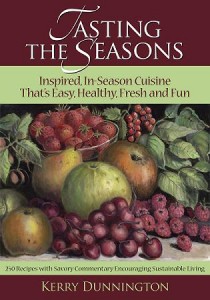 Just in time for fall entertaining and family gatherings, a new cookbook Tasting the Seasons, by Kerry Dunnington, offers exciting new recipes that take advantage of seasonal ingredients.
"Tasting the Seasons was created from my belief that the most delicious, healthy meals are made from fresh, seasonal, pesticide-free food supplied by local farmers who are committed to sustainable practices" says Dunnington.
Creative cooks will enjoy Dunnington's appetizers like Baked Brie with Cherry Preserves and Amaretto or Chickpea Mousse with Caramelized Onions.  Interesting mains are Bourbon Pork with Creamy Mustard Sauce, Shrimp and Vegetable Quesadillas and A Feta Compli Spinach Pie.
For a taste of "Tasting the Seasons", the author shares three fall recipes:
Honeyed Pecan Salad with Tangerine Vinaigrette
Makes 8 servings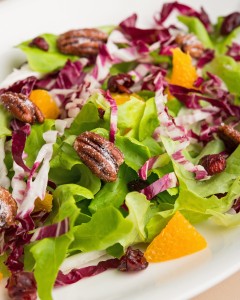 Radicchio is an exotic Italian salad ingredient related to chicory. Its garnet color adds vibrancy
to tossed green salads. Radicchio has a peppery flavor that is countered in this salad by the
sweetened nuts and Tangerine Vinaigrette.
Tangerine Vinaigrette 
1 tablespoon sugar
1 teaspoon dry mustard
1 teaspoon salt
2 tablespoons seasoned rice vinegar
½ cup tangerine juice
½ cup canola oil 
In a 2-cup jar with a tight-fitting lid, combine sugar, dry mustard and salt. Add rice vinegar, tangerine juice and canola oil.
1 cup pecan halves
⅛ cup honey
1 teaspoon sugar
8 handfuls Boston lettuce leaves, torn into bite-size pieces
1 cup shredded radicchio
1 tangerine, peeled, sectioned and cut in half width-wise
¼ cup dried cranberries 
Preheat oven to 325°F. On a parchment-lined, rimmed baking sheet, toss pecans with honey; arrange in a single layer and bake for 12–15 minutes. Transfer nuts to a piece of foil that has been lightly coated with cooking spray. Sprinkle nuts with sugar; set aside. In a large bowl, toss Boston lettuce leaves with radicchio. Shake vinaigrette and lightly coat lettuce leaves with dressing (you will have extra vinaigrette: refrigerate unused portion). Divide lettuce onto 8 salad plates. Top lettuce leaves with tangerine pieces, cranberries and honeyed pecans. Serve immediately.
Chickpea and Mushroom Soup with Vegetables
Makes 6 servings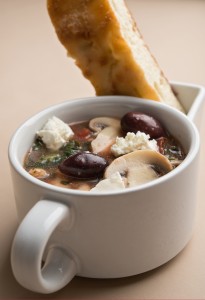 Not only is this soup simple to assemble, it's nutritious, requires very little cooking time, and it's beautiful. For a delicious meal, serve with a hearty loaf of bread.
2 tablespoons olive oil
3 garlic cloves, sliced
1½ cups sliced fresh mushrooms
2 cups chicken broth
1 can (14 ounces) chickpeas (garbanzo beans)
1 can (28 ounces) diced tomatoes
10 ounces frozen spinach, thawed
Salt and pepper, to taste
Feta cheese, crumbled
Kalamata black olives, pitted 
In a large soup pot, heat oil over medium heat and sauté garlic and mushrooms. Cook, stirring frequently, until mushrooms are tender, about 3–5 minutes. Add chicken broth, chickpeas, tomatoes and spinach. Cover, raise the temperature a notch, bring soup to a boil, and then reduce heat to simmer. Season the soup with salt and pepper. Ladle soup into bowls. Serve immediately and pass the feta cheese and black olives to your guests.
Cranberry Apple Salad with Sunflower Seeds
Makes 8 servings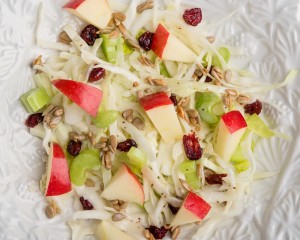 This is the perfect salad to prepare during the fall and winter months; it complements hearty meats, soups, stews and casseroles that are typically served this time of year.
Apple Cider Celery Seed Dressing
⅓ cup sugar
1 teaspoon salt
1 teaspoon dry mustard
1 teaspoon freshly minced onion
¼ cup apple cider vinegar
1 cup canola oil
1 teaspoon celery seeds 
In a medium bowl, combine sugar, salt and dry mustard. Add onion and apple cider vinegar. Slowly add oil, whisking constantly. You'll see the mixture change texture as you whisk. After all the oil has been added and dressing has thickened, stir in celery seeds. Mix until well blended. Transfer dressing to a 2-cup jar with a tight-fitting lid and refrigerate. (Apple Cider Celery Seed Dressing will last for several days in the refrigerator.) Allow to come to room temperature before serving. Shake well prior to using.
 Cranberry Apple Salad
5 cups white cabbage, shredded
1½ cups sliced celery, ¼-inch size pieces
1 large apple, chopped
⅓ cup dried cranberries
⅓ cup toasted sunflower seeds
In a large bowl, combine cabbage, celery, chopped apple, cranberries and sunflower seeds. Toss the salad with the Apple Cider Celery Seed Dressing with just enough dressing to coat the ingredients. Serve immediately.
Tasting the Seasons, by Kerry Dunnington. ©2014.  Published by Artichoke Publishers. Photo Credit: Whitney Wasson, photographer. Used with permission from Artichoke Publishers.