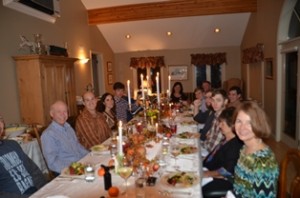 Thanksgiving is a time to bring the entire family together for the annual tradition. Traditions are important to establish not only for young children, but to make older adults feel they continue to be part of the extended family. What makes Thanksgiving one of the most positive, upbeat holidays of the year, is not only the overabundance of food, but it provides an opportunity for everyone to feel part of the dinner by bringing something to share. This Thanksgiving, make everyone in your group feel a part of the event by asking them to bring something a favorite food — even if someone is not a cook and brings the cashews, they will feel special by being included in the preparation of the meal. But, what about Grandma and Grandpa? What about dietary restrictions? Not a problem, say the culinary experts at Classic Residence by Hyatt, a national leader in luxury senior living. They provide some simple advice on how to be inclusive of older adults when planning your Thanksgiving meal, including some "twists" on Thanksgiving favorites that will surprise and delight the entire family.
"As families start planning their Thanksgiving meals, it's important for children of older adults to be mindful of their parents and other older adult guests," said Jon Benson, director of culinary operations at Classic Residence by Hyatt. "A good approach is to balance traditions of the past with the culinary nuances of today."
Benson's tips include:
Respect Tradition – Older adults have been creating their own family meals for years. Seek out their advice and include their input into the meal planning. Perhaps there are some recipes they are looking forward to enjoying? Holidays like Thanksgiving are a great way to reconnect with the past and food is great way to evoke memories.
Ask About Dietary Preferences – Everyone tends to indulge at Thanksgiving and throughout the holiday season, but be mindful of any dietary restrictions your older adult guests might have. It never hurts to ask.
Don't Be Afraid to Introduce New Things – Tradition is important, but you don't have to be rigid. Today's older adults are savvy about international cuisine and major culinary trends.
For example, Classic Residence by Hyatt communities across the country are hosting "Thanksgiving Unstuffed" events with menu items featuring twists on Thanksgiving favorites including Spiced Pumpkin Mousse Napoleon and Grilled Pear, Apple and Cranberry Compote.
In addition to special holiday menus, all Classic Residence by Hyatt fine dining rooms and dining venues regularly feature new and innovative menu items with healthful, flavorful, interesting, and varied choices. Executive chefs, sous chefs, pastry chefs, dining room managers, executive directors and executives are trained rigorously and continuously, including continuing education courses at The Culinary Institute of America.