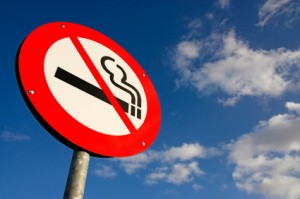 CVS/pharmacy announces all 7700 CVS/pharmacy locations are tobacco free as of September 3, 2014. They boast they beat their original target date by nearly a month.
"CVS Health is always looking for ways to promote health and reduce the burden of disease," said Troyen A. Brennan, M.D., M.P.H., Chief Medical Officer of CVS Health. "Putting an end to the sale of cigarettes and tobacco will make a significant difference in reducing the chronic illnesses associated with tobacco use."
For some of CVS customers this is nothing new; they already experience a tobacco-free CVS/pharmacy. For example, two stores in the San Francisco market and dozens of stores in Massachusetts – where tobacco sales are banned by local ordinance – are tobacco free. And since the spring, new and relocated CVS/pharmacy stores have opened without cigarettes and other tobacco products behind the counter.
The decision made sense to CVS execs. Why promote healthy lifestyles and products while at the same time profiting from cigarette sales?
"Every day, all across the country, customers and patients place their trust in our 26,000 pharmacists and nurse practitioners to serve their health care needs," said Helena B. Foulkes, President of CVS/pharmacy. "The removal of cigarette and other tobacco products from our stores is an important step in helping Americans to quit smoking and get healthy."
CVS will be unveiling new signage behind the checkout and will introduce a robust smoking cessation program. They will also be banking on sales from an enhanced selection of nicotine replacement products in select stores.