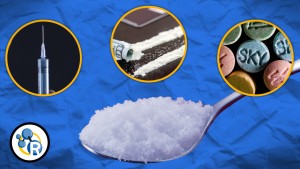 If you need to have a conversation with your children, other family members or grandchildren about drugs, here's some powerful info on the synthetic drugs people are trying.
What are synthetic drugs?
Synthetic drugs such as "bath salts," "K2" or "Spice" have made unsettling headlines lately, with reports of violent, erratic behavior and deaths after people have used the substances.
Synthetic cannabinoids, commonly known as "synthetic marijuana," "K2," or "Spice", are often sold in legal retail outlets as "herbal incense" or "potpourri", and synthetic cathinones are often sold as "bath salts" or "jewelry cleaner". They are labeled "not for human consumption" to mask their intended purpose and avoid Food and Drug Administration (FDA) regulatory oversight of the manufacturing process.
Synthetic cannabinoids are man-made chemicals that are applied (often sprayed) onto plant material and marketed as a "legal" high. Users claim that synthetic cannabinoids mimic Δ9-tetrahydrocannabinol (THC), the primary psychoactive active ingredient in marijuana.
Use of synthetic cannabinoids is alarmingly high, especially among young people. According to the 2012 Monitoring the Future survey of youth drug-use trends, one in nine 12th graders in America reported using synthetic cannabinoids in the past year. This rate, unchanged from 2011, puts synthetic cannabinoids as the second most frequently used illegal drug among high school seniors after marijuana (see chart).
Synthetic cathinones are man-made chemicals related to amphetamines. Synthetic cathinone products often consist of methylenedioxypyrovalerone (MDPV), mephedrone, and methylone.
What's the danger?
Why are these synthesized drugs so dangerous, and why aren't there more regulations?
The effects of synthetic cannabinoids include severe agitation and anxiety, nausea, vomiting, tachycardia (fast, racing heartbeat), elevated blood pressure, tremors and seizures, hallucinations, dilated pupils, and suicidal and other harmful thoughts and/or actions.
Similar to the adverse effects of cocaine, LSD, and methamphetamine, synthetic cathinone use is associated with increased heart rate and blood pressure, chest pain, extreme paranoia, hallucinations, delusions, and violent behavior, which causes users to harm themselves or others.
Watch the scary video and be educated
Check out the video here so you can be informed for the next time you need to have a talk.
Information provided by the American Chemical Society, a nonprofit organization chartered by the U.S. Congress, Washington, DC and www.whitehouse.gov.