Be happy.
Two words my Aunt Virginia would always say to me at the end of our conversations.
Like many aunts, my aunt Virginia was a very special person. She, in my mind, was "one of the original working women." She was an art school graduate, fine arts painter, gardener, pet lover, wife, aunt, and ever-smiling.
Back in the 60s and early 70s, when professional working women were still a minority, she was a draftsperson. Applying her art skills, she worked for Philip L. Rhodes, the famous naval architect and marine engineer who designed the 12‐meter yacht Weatherly, the 1962 winner of the America's Cup race.
Aunt Virginia was, I am sure, highly regarded for her drafting expertise even though she was the only woman in the office.
We would sometimes meet at the Schraffts, on 42nd street, around the corner from her Lexington Avenue office, and across from Grand Central Station. Schraffts, now closed, was a popular spot for their lunches and world-famous ice cream. We would sit at the counter chatting about work … my first job, and her drawing plans for mega ships.
Over coffee, I remember when she told me about working on drawings for Aristotle Onassis's yacht, The Cristina O, one of the largest in the world. Mind you, drawings in those days were totally by hand – no computer renditions existed! Onassis himself walked into her office one day. What a thrill for her.
She was happily married, although never had children, loved to garden, and dote on her pets. She inspired me to develop my career, plant gardens, and paint.
She helped me plant my first vegetable garden. I still think of her every day when I work in mine today.
She was happy. And her motto and parting words to me were always, "be happy!"
As we closed on the current issue, I thought of Aunt Virginia and how so many of the articles ring with Aunt Virginia's words.
Happiness has been identified by many health professionals and documented now in studies as being just as important as diet and exercise to stave off ill health.
There have even been studies on happiness, like the 80-plus-year Harvard Study of Adult Development that started in 1938. Results revealed the importance of positive relationships, giving back, not worrying about the small stuff, and more.
Happiness seems to be so trendy now that there's a new Master of Arts in Happiness Studies recently introduced at Centenary University, New Jersey, designed to prepare students for supervisory and management positions in the workplace.
We've known about how important happiness is to successful aging for a long time. Years ago, we published the book, Healthy Aging … Inspirational Letters from Americans." After reviewing hundreds of letters from the 50-plus crowd, we learned that what was truly important was mental wellness. Yes, being happy, giving back, and laughing ranked as much more important in successful aging than the obvious diet and fitness goal.
As Helen Quackenbush wrote to us, "I am 100 years old and still going strong! I live in my own home and still exercise daily by walking three times around my badminton court three times a day. I still drink a martini when out for dinner, and no one can tell me I won't live longer for not eating my vegetables. . . I never did like them."
Helen agreed with my Aunt Virginia, "My belief is being happy is healthy, and with good health, you have a solid rock for your life's foundation."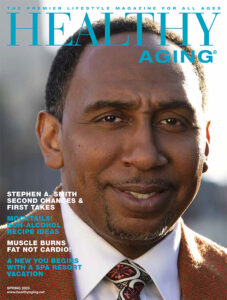 In the latest issue of Healthy Aging® Magazine, we hope you will find ideas for being happy.
The main cover feature is about Stephen A. Smith, known as "Stephen A," a well-known, highly successful ESPN broadcaster. Smith shares his story of rising from a kid living on the "wrong side of the tracks" to his berth as one of the top sportscasters in America in his new memoir, Straight Shooter, A Memoir of Second Chances and First Takes. Smith shares his ups and downs and his ideas of how he has created his own happiness.
You will also find here loads of inspirational ideas from healthy recipe ideas, fitness tips, career, mental wellness, and ways to get rid of negative thoughts that might creep into your vocab.
We hope you enjoy this issue and that you, too, will keep thinking of Aunt Virginia's words,
Be happy!
Subscribers
Subscribers can log in at any time from any page of the Healthy Aging® website, top right corner.
Not a Subscriber?
Click here and join the Healthy Aging© audience! SUBSCRIBE!
Do sign up for our newsletter and send me an email at info@healthyaging.net with what you'd like to see us cover.
And please let us know what you think on our Facebook page and follow us on Twitter.