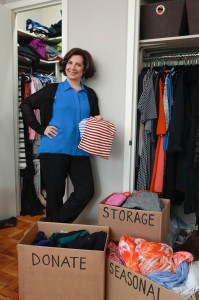 Who would have thought that your closet could be a barrier to losing weight? While most of us are guilty of keeping clothes that no longer fit in our closets, organizational experts say that holding on to these clothes can actually hinder weight loss efforts.
With obesity rates that have more than doubled since the '70s and almost two thirds of Americans obese or overweight, this new concept might be a helpful solution.
The concept is all part of a new campaign, My Healthy™ , introduced by Eisai Inc, the U.S. pharmaceutical subsidiary of Tokyo-based Eisai Co., Ltd.
Americans are encouraged to "liberate your closet" by giving away these clothes and make the My Healthy™ Promise – a commitment to talk openly with your doctor about your weight and health, make better food choices and be more active. As part of this effort, they are asking people to help inspire others by sharing selfies or short videos of themselves making the promise and liberating their closet.
The interactive and motivational campaign shifts the focus of the obesity conversation away from just pounds lost to health gained. The cornerstone of the campaign is the My Healthy™ Promise, a commitment to set realistic goals and recognize that every positive step counts, including: talking openly with your doctor about your weight and health, making healthy food choices and being more active.
Organizational experts say that when trying to lose weight, it can be frustrating and disheartening to keep the clothes you've been striving to fit into for years. "Liberate your closet" and help clear your mind by giving away clothes that do not fit.
"A positive attitude and changing what hasn't worked in the past is critically important to achieving weight loss," says Julie Morgenstern, renowned organizational expert and New York Times best-selling author of SHED YOUR STUFF, Change Your Life. "Through My Healthy™ we are encouraging people to liberate their closets of the clothes that might be holding them back mentally and physically from the path to weight loss. It can be exciting to start with a clean slate as you begin your path to weight loss."
You can join the movement by uploading a selfie of you liberating your closet at myhealthy.com. Whether it's your too-tight red dress or a belt you can't buckle anymore, gather up all the clothes you no longer wear and take pictures or a video to mark the start of your new journey. Submit these photos and/or videos to share why you are no longer holding on to those clothes as part of your promise to focus on health gained not just lost pounds.