Recap of  White House Conference on Aging 2015, the event that happens once every 10 years
By Carolyn Worthington, editor, Healthy Aging®
It's not often that "aging" takes center stage on a national agenda. Growing older in America had its day, however, at the much anticipated 2015 White House Conference on Aging.
The event took place at the White House on Monday, July 13 and featured President Obama as keynote speaker.
Event with 50+ year history
The conference has been held every ten years since 1961 when Dwight D. Eisenhower was president and more than 3000 people attended representing some 300 organizations. The original purpose was "to provide a forum for representatives of older Americans throughout the country to discuss and propose solutions to the unique problems facing the elderly in this country."
This year's scaled down event was attended by only 200 invited guests from the public and private sectors as well as media. The full, all day, program featured opening remarks by President Obama and numerous panel discussions led by health and industry leaders.
Although the event was smaller in attendance, it still attracted a passionate crowd. While earlier conferences resulted in proposed initiatives and reaffirmations of existing programs, this year's conference focused on panel or so-called "armchair," discussions. Four key areas, retirement security, healthy aging, long-term services and elder justice were highlighted and a variety of future plan announcements were made.
President Obama Gave Opening Remarks at White House Conference on Aging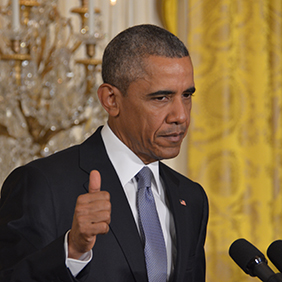 President Obama welcomed the group in the East Room of the White House. The 2015 event coincidentally coincided, he noted, with the 50th anniversary of Medicare, Medicaid, and the Older Americans Act, as well as the 80th anniversary of Social Security.
"One of the best measures of a country is how it treats its older citizens," Obama said. "And by that measure, the United States has a lot to be proud of."
The president outlined several ways his office is making an effort "not to cut back on services. The goal is to make sure that you're getting more of the services that you need, less of the services you don't, so you've got more money left over to do even more stuff that you need to keep you healthy and active and thriving."
Three of the steps Obama outlined in his remarks were:
Number one, we have to keep Social Security strong, protecting its future solvency. And I think there are ways, creative ways that people are talking about to protect its future solvency, but also strengthen retirement security for our most vulnerable neighbors.
Step number two — for Americans who are doing the hard work of saving for retirement, let's make sure that they get a fair deal. Earlier this year, I announced new steps we're taking to protect Americans by cracking down on conflicts of interest in retirement advice. The goal here is to put an end to Wall Street brokers who benefit from backdoor payments or hidden fees at the expense of their clients. If they are advising you on how to save your money, they should be looking out for you — not for somebody who's selling a product that may not be best for you. And for the many brokers out there who are doing the right thing, this rule levels the playing field for them and their customers. The notion here is, is we want to make sure responsibility is rewarded and not exploited. So there's a consumer protection element to this whole thing.
Number three — we've got to make it easier for people to save for retirement. And today, I'm pleased to announce an important step that we're taking to do just that. Right now, about one-third of American workers do not have access to a retirement plan at work — one-third. That's why every budget request I've submitted since taking office has included a common-sense proposal to automatically enroll workers without access to a workplace retirement plan in an IRA, which would provide an additional 30 million Americans with access to a retirement plan at work.
Drilling down to more specifics, Obama added:
I've called on the Department of Labor and Tom Perez to propose a set of rules by the end of the year to provide a clear path forward for states to create retirement savings programs.
We're going to make it easier for folks who are homebound to get nutritional assistance. We're going to update quality and safety requirements for thousands of nursing homes — the first major overhaul in nearly 25 years.
We're going to train more prosecutors in how to combat elder abuse. We're going to work with Congress to reauthorize the Older Americans Act.
Other Leaders at the White House Conference on Aging
In addition to Obama, Valerie Jarrett, senior advisor and assistant to the president, Sylvia Burwell, secretary of the Department of Health and Human Services, Nora Super, executive director of the conference and Cecilia Munoz, assistant to the president and director of the domestic policy council, spoke during the conference.
Panels and "arm chair" sessions touched upon key aging issues.
Although there were not "chairs with arms," the sessions labeled as such covered many of the important issues of growing older in America today. Each session allowed for several questions from the audience. The press was not invited to ask questions.
Caregiving in America Panel
David Hyde Pierce served as moderator for the panel. Pierce, an actor known for roles in the site-com Frasier, The Good Wife and many others, is noted for his work with the Alzheimer's Association.
Frank Fernandez, Blue Cross Blue Shield of Minnesota announced new cities to take part in pilot programs of the Dementia Friendly America Initiative. The initiative is based on a model implemented in Minnesota through which communities across the state are actively working to increase dementia awareness and implement strategies to help support individuals in the community with dementia and their family caregivers. New locations announced included Denver and Tempe Arizona, Knoxville, Tennessee, Prince George County and locations in West Virginia.
Armchair Conversation: Innovations in Aging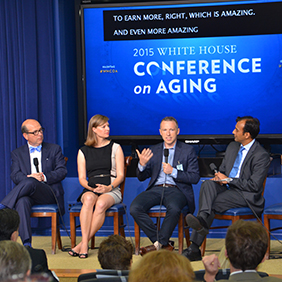 "Why are people more interested now in aging?" Joe Coughlin, MIT AgeLab posed the question to the group. "The demographic has finally hit the beach," he said noting the large numbers of Americans now not only over 50 but turning 65 at a rapid rate.
Anita Roth, head of policy research for Airbnb, said the older adult category is "a huge interest for us." Airbnb is a website connecting local hosts with travelers. Not only are older adults traveling, she said, but "empty nesters" are opening their homes to travelers through the website.
Also on the panel was Seth Sternberg, Honor who announced that Honor will be offering $1 million in free care across 10 cities in the United States and working with established care providing organizations in those communities to ensure this care goes to helping older Americans. Honor is an in-home care startup and Sternberg raised $20 million to launch it.
Healthy aging panel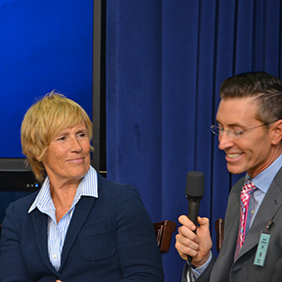 Michael Smith, WebMD, led the panel on healthy aging. Diana Nyad, notable long distance swimmer who accomplished a swim of 110 miles from Cuba to Florida after five attempts, offered this advice: "Never, ever give up." She added "I'm 65. I am physically better than I was at 25."
Vice Admiral Vivek Murthy, U.S. Surgeon General, said "It is essential to build a culture of prevention. We don't invest enough in prevention." A healthy aging action plan report is soon to be released on how to build a culture of prevention, he said.
Successful programs such as the diabetes prevention through the YMCA were highlighted. Kevin Washington, president and CEO of the YMCA of the USA, enthusiastically described the effect of diabetes prevention programs such as the one at the Y.
"The people in their 60s," Washington said, "seem to take the program seriously and have the most success."
The Surgeon General joined with the YMCA in issuing a challenge to the 850 YMCA associations across the country to host intergenerational physical activity events during the first week of August to promote opportunities for young and older Americans to be active together.
Other panels and announcements
Additional panels were held on elder justice, universal design, technology and the future of aging, nutrition and aging, and caregiving.
The launch of Aging.gov was announced. This is a new website designed to provide older Americans, their families, friends and other caregivers a resource for government information on helping older adults live independent lives.
A full list and specific details of the announcements made at the conference can be found here: White House Conference Fact Sheet