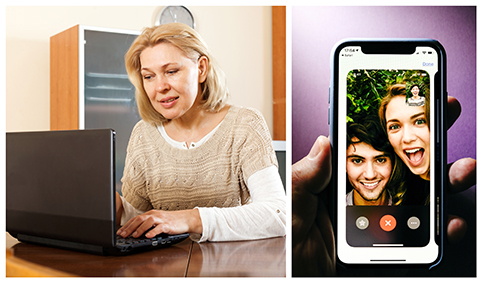 With social distancing now on everyone's minds, video teleconferencing and chats are booming as a way to keep connected with friends, family and co-workers. Of course, you can just pick up the phone and make a call, but video calls can offer an even greater closeness that many long for when being told to stay home.
Talking on camera can have its minuses too … Older or scratched phones portray blurry or not very sharp images. You might be having a bad hair day since beauty salons and barbers are shut down. Extreme close-ups reveal wrinkles or those worry lines on your forehead. All good reasons to opt for the landline or cell phone call.
Your children, grandchildren, friends and family might not want to settle for just a phone call without video, however. If you have been a reluctant video chatter, you might be pressured into taking the tape off of your webcam now.
So what to do?
These homebound days have resulted in a proliferation of video communication aides that go well beyond the here and now.
You can choose a setting that makes you look scholarly, sporty, rich or poor depending upon who you call, be it boss, co-worker, friend or main squeeze.
You can be silly by replacing your image with an emoji or photo of you ten years younger. Or, you can doctor your live image by choosing a skin-smoothing filter that will make your viewer say "Wow, you look great, staying at home really suits you!"
So take your pick. Here's a run-down of some of the current apps and settings you can use to stay visibly and verbally charming, on your terms.
Google Duo
The latest for Android users is Google Duo, released three years ago. The picture is crystal clear and the audio quality is high. Google Duo can be used with up to eight people on phones, tablets and computers. It works across iOS and Android platforms, unlike Facetime.
The "Knock Knock" feature allows you to see who is calling before you answer. The app is secured with end-to-end encryption that protects your communications data. It can't be accidentally turned off.
FaceTime
For almost a decade, FaceTime, the videotelephony product created by Apple has been a simple way to connect for iPhone and Mac users. It can be used with an iPhone, iPad or iPod touch.
If you are self-conscious, haven't put your make up on or just don't want to have your face shown, you can choose a Memoji (Apple's version of emoji) instead. They offer ones they say to match your personality. You can customize the features of the Memoji including skin tone, hairstyle, eyes, and more.
You can take live FaceTime photos and videos during the calls as well.
Both FaceTime and Google Duo are free.
Skype
Skype has 17 years of experience under its belt and is one of the powerhouses of communication tools. The video can be crystal clear and the audio is generally excellent. Very affordable international calling plans are available and make it easy to connect with others out of the country.
The group video chat makes it possible for up to 50 people to meet and collaborate all at once. With group screen sharing, you can share photos or presentations if you are meeting for work.
It also offers a neat feature of "background blur" to improve focus on the speaker (and is helpful in hiding your cluttered room.)
Skype is secure: All Skype-to-Skype voice, video, file transfers and instant messages are encrypted. This protects you from potential eavesdropping by malicious users.
WhatsApp
WhatsApp, owned by Facebook, is another old-timer. Created in 2009, WhatsApp allows the user to text, send voice messages, share images and documents as well as make voice and video calls.
The app uses your phone's Internet connection rather than your cell phone plan which can be a good saving. Check your provider to see if data charges apply if you are concerned.
Zoom
Zoom Video Communications has been a go-to platform for the corporate world since 2011. The remote conferencing product offers video conferencing, online meetings, chat, and mobile collaboration. This big daddy app allows up to 1,000 video participants and 10,000 viewers … probably more than your Facebook friends list.
Several plans are offered including one for free which allows up to 100 participants with a 40-minute meeting limit. There are more robust plans which are more suitable for business purposes.
One of the cool features is the ability to change your background image. You simply upload a custom photo and use it one time or make it your default.
Touch Up My Appearance is an option that retouches your video display with a soft-focus smoothing out the skin tone on your face.
The platform had received rave reviews primarily from the corporate world until about a month ago when it was taken by storm for educational and private consumer use. A check of the reviews shows a big gap from around March 3, 2020 until today.
Sadly, with all of its bells and whistles, Zoom has just been called out for its lack of end-to-end encryption such as Google Duo has.
FBI Warns of Teleconferencing and Online Classroom Hijacking During COVID-19 Pandemic
It appears that as large numbers of people turn to video-teleconferencing (VTC) platforms to stay connected in the wake of the COVID-19 crisis, reports of VTC hijacking (also called "Zoom-bombing") are emerging nationwide. The FBI has received multiple reports of conferences being disrupted by pornographic and/or hate images and threatening language.
In the Boston area which includes Maine, Massachusetts, New Hampshire, and Rhode Island, two schools in Massachusetts reported a high school online class was invaded by an individual who yelled a profanity and then shouted the teacher's home address in the middle of instruction. Another call was invaded visually by an individual.
Based on such security breaches, the FBI has offered these recommendations to mitigate teleconference hijacking threats:
Do not make meetings or classrooms public. In Zoom, there are two options to make a meeting private: require a meeting password or use the waiting room feature and control the admittance of guests.
Do not share a link to a teleconference or classroom on an unrestricted publicly available social media post. Provide the link directly to specific people.
Manage screen sharing options. In Zoom, change screen sharing to "Host Only."
Ensure users are using the updated version of remote access/meeting applications. In January 2020, Zoom updated their software. In their security update, the teleconference software provider added passwords by default for meetings and disabled the ability to randomly scan for meetings to join.
There are lots of options for staying connected. Just remember to clean your camera lens, choose a fun background and make staying social a priority by connecting with family and friends especially during this turbulent time.