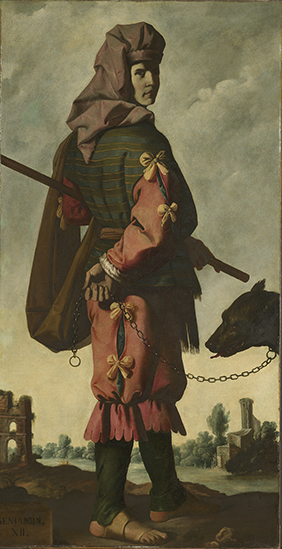 Visiting New York City? You might want to stop by the Frick Museum, 1 East 70th Street, near Fifth Avenue to see a stunning set of Spanish Baroque works that has traveled to the United States for the first time.
Francisco de Zurbarán helped to define Seville's Golden Age, a period of economic expansion and cultural resurgence in the late sixteenth and early seventeenth centuries, when the Andalusian seaport monopolized trade with the New World.
Throughout the late 1620s and 1630s, the artist and his workshop produced monumental multi- figure paintings as well asseries of single-figure works representing the saints, the Apostles, and various other subjects for ecclesiastical institutions and palaces throughout Spain and the Spanish colonies.
With a decline in Seville's economy in the 1640s and the plague of 1649, he turned increasingly to the Latin American market, supplying paintings on commission to churches, monasteries, and wealthy individuals, while also selling workshop pieces on the open market in Buenos Aires and Lima, Peru.
Between 1640 and 1645, Zurbarán and his assistants produced the remarkable series Jacob and His Twelve Sons, which is on view at The Frick Collection through the spring of 2018.
Co-organized by the Frick with the  Meadows Museum in Dallas and Auckland Castle, County Durham, England, the exhibition was first seen in Dallas last fall. Twelve of the paintings are lent by Auckland Castle.
These are reunited with a thirteenth canvas, lent for both American presentations by Lady Willoughby de Eresby of Grimsthorpe Castle in Bourne, Lincolnshire. Zurbarán's work is well represented in public collections across the United States, but Jacob and His Twelve Sons is the first complete set of paintings by the Spanish master to be seen here, and the exhibition marks the first time that the Auckland/Grimsthorpe series has traveled to the United States.
The exhibit is open from January 31 through April 22, 2018. Hours are 10 a.m. to 6:00 p.m., Tuesdays through Saturdays, 11:00 a.m. to 5:00 p.m. on Sundays. Admission is $22, $17 for seniors. Check their website for further information: www.frick.org
If you would like to see more of  Zurbarán's  work, hop on over to Madrid, Spain to the Prado Museum.