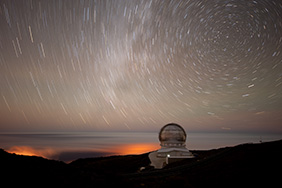 Our new bi-monthly Facebook cover photo is of the starry night sky in Tenerife, Spain, a star gazer's heaven.  We chose this spectacular photo to celebrate star gazers around the world and to introduce this gorgeous island as a prime location for viewing the night sky.
Star Gazing in Tenerife, Canary Islands, Spain Photo is Healthy Aging Favorite
Tenerife is the largest of the Canary Islands, a group of Spanish islands southwest of Spain.  Tenerife's geographical location allows visitors and star tourists to view most of the Northern and some of the Southern hemispheres at one time.
Protected Skies
Boasting Europe's largest telescope, the Tenerife observatory is located approximately a mile and a half (2,400 meters) above sea level.  From this vantage point, the star gazer can witness some of the clearest skies for taking in the beauty of our solar system.  A local law protects the night sky by controlling light pollution and flight paths making Tenerife's night sky pristine. See more photos of star tourism on the Tourist Office of Spain website:  www.spain.info To recommend a photo, contact, editor@healthyaging.net