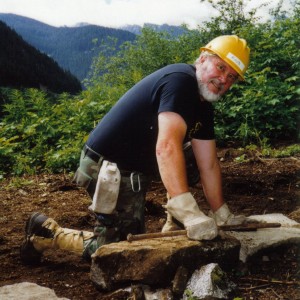 If lying on the beach and doing nothing is not your kind of vacation, you might want to think about one where you are active and "give back" at the same time.  Make it a "voluntour" vacation.
To help you plan, American Hiking Society has just released their 2015 Volunteer Vacations schedule, celebrating nearly forty years of volunteer trail stewardship in America, offering 60 trail-building vacations to iconic recreation destinations across the country.  Whether you are 18 or 80, are an experienced trail builder or just eager to learn, there is a meaningful, fun and rewarding volunteer vacation that might pique your interest.
Value of a Volunteer Vacation
"These voluntour trips combine trail conservation, crew camaraderie, and nature exploration within a week's time," said Gregory Miller, President of American Hiking Society, "allowing outdoor enthusiasts an opportunity to get out and give back to the environment while enjoying a once-in-a-lifetime outdoor adventure."  Whether you need a push to organize your next outing, are interested in traveling to a new hiking locale, or are eager to meet others who share your passion for the outdoors,  American Hiking Society can do the legwork in planning the trip.
2015 Ideas
Trips offer a range of difficulty levels and accommodations and do not require any special skills or prior trail maintenance experience.  From the mountains of Maine to the beaches of California, American Hiking's line-up of 60 voluntour destinations offers a full range of outdoor experiences. Here are a few:
Assist park rangers with coastal trail conservation in Golden Gate National Recreation Area in California.  You will have plenty of time to explore the San Francisco Bay Area which is full of culturally and naturally beautiful sites including Alcatraz Island, the Golden Gate Bridge, and the Presidio
Learn to use survey maps and a compass to aid in vital boundary work on the Appalachian Trail in Maine.  Urban noises and light pollution are a distant memory here as loon cries and moose bugles echo across the water under starry skies
Use hand tools to restore and preserve hiking trails in the iconic Bob Marshall Wilderness in Montana.  Considered by many to be the "crown jewel" of the wilderness preservation system, this area provides volunteers some of the best wildlife viewing in America.  On your "free-day" get up early and hike to Heart Lake or sleep in and relax along the creek.
The Fine Print
To participate, a registration fee of $295 is required.  Your trail crew will consist of 6-15 like-minded volunteers and include the guidance and supervision of an experienced crew leader.  Food, park entrance fees, campsite or cabin accommodations, tools and a one-year membership with American Hiking Society are all included in your registration fee, making American Hiking's Volunteer Vacations an affordable way to adventure travel.
To learn more about the 2015 Volunteer Vacation's trip schedule, visit www.AmericanHiking.org