Avid gardeners do it. They pour over seed catalogues during the winter months with visions of sugar snaps in their heads.
Itinerant travelers do it too. They head to travel shows in their areas to scope out new ideas to add to their bucket list. Some insiders even transform their dreams into reality and book their trips at these shows.
What do the gardeners and travel lovers have in common? They turn winter blues into passionate dreams which often turn into reality.
Of course travel ideas are all over the internet.  A fun way to speak to the experts is found at the many winter travel shows. The recent New York Times 2015 Travel Show, considered the largest trade and consumer travel event in North America, is one such show. This year's New York City show did not disappoint. Nearly 500 exhibitors from more than 150 countries were there to make travel dreams come to life.
The Healthy Aging® team was there too and has these highlights to report.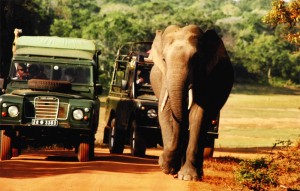 Sri Lanka
Off the coast of India, this relatively small island with a big heart should be on your bucket list. How to get there? Although no airlines fly direct to Sri Lanka yet, you might hop to London and jump on SriLankan Airlines to set the mood.
Highlights:
Pristine beaches
Considered one of top five biodiversity hotspots in the world
Wildlife from elephants and leopards to wild buffaloes
Sea life from blue and sperm whales to dolphins
Birding. Nearly 433 bird species
Ancient cities to explore
Adventure sports from scuba diving and deep sea fishing to hiking and rock climbing
Fine dining
International shopping
Diverse topography from the sea to the mountains
Travel specialists provide local knowledge
Tip: Take the mystery out of your travel plans by working with a locally based travel specialist. Here are two resources with decades of experience in Sri Lanka tourism.
Lanka Vacations USA
For more information on Sri Lanka, visit:  http://www.srilanka.travel/
The Bahamas
16 major destinations to explore
Over 2,000 breathtaking islands and cays
Clearest water on earth
Eco-tourism from the world's third-largest fringing barrier reef and largest colony of pink flamingos to a wild horse preserve
Big game, fly and reef fishing
Pampering at world-class spas
Active sports from golf to mountain bike riding
Diving adventures to explore sunken Spanish galleons, underwater caves and coral reefs
For travel ideas and information, visit: http://www.bahamas.com
Antigua and Barbuda
365 white sandy beaches
Swim with the Stingrays
Hiking
Birding
Mountain bike riding
Some special events:
Rwanda 
Biking the Congo Nile Trail, five day mountain bike trip
Mountain Gorillas. One of the world's most exciting wildlife experiences
Primate Paradise. Rwanda is home to one fifth of the primate species in Africa
Game Viewing. Akagera National Park, home to big game such as elephant, buffalo, leopard, hippo, zebra and giraffe
Lush Forests. Nyungwe, one of Africa's oldest mountain rainforests
Birding heaven. One of the highest concentrations of birds in Africa, with over 700 species
Volcanoes. Hike to the craters for stunning views
Agritourism. Tour tea plantations
New luxury lodges
Beaches. Just one hour drive from the Gorillas are tropical beaches on the shores of Lake Kivu
Culture -Traditional Intore dancers are a true spectacle to see as they perform their warlike dances
For more travel information and ideas, visit:  www.rwandaresources.com
Take a boat trip through the Panama Canal.
Holland America:  "Embark on what savvy world travelers consider the thrill of a lifetime—cruising ocean to ocean via the Panama Canal. Our elegant midsized ships gently float through the famed series of locks that changed the course of history with a marvel of modern engineering"
Walk through the centuries old cobble-stone streets of The Old Town of Panama City
Eat like a local or explore the international cuisine offered at the myriad of restaurants
Visit the Coastal Strip where you can walk along skyscrapers one minute and colonial-era buildings the next.
Take a cable car through the jungle at Gamboa … a birders paradise with over 950 birds to spot.