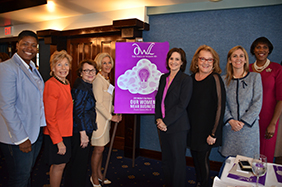 Women succeeding in the business world is nothing unusual anymore. While women have always worked and owned businesses, it was really the women's rights movement of 1848 to 1920 and the women's liberation efforts in the 60s and 70s that changed the tide.
What is relatively new today for women in the business arena is the growth of entrepreneurship. The spade work done during the the previous decades has spawned women-led enterprises that are growing and succeeding at an impressive rate.
According to OWL — The Voice of Women 40+ — there are nearly 9.1 million women-owned enterprises today that employ nearly 7.9 million workers and generate more than $1.4 trillion in revenues.
Who is OWL?
Celebrating its 35th anniversary, OWL began in 1980 as "The Older Woman's League" in Des Moines, Iowa following the White House Min-Conference on Older Women. The original mission which lives on today focused on economic security and access to health care.
Almost four decades later, the organization continues its original mission efforts with the added "entrepreneurship" platform.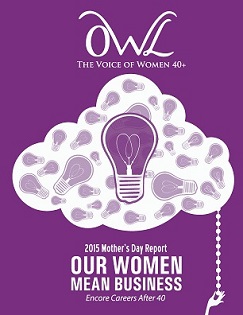 OWL believes the next economic boom might come from the increasing number of women entrepreneurs.  That trend is the subject of OWL's 2015 Mother's Day Report, 'Our Women Mean Business: Encore Careers After 40,' released recently at the organizations annual event held at the National Press Club in Washington, DC.
The report also highlights obstacles that could prevent that potential from being reached, including the meager amount of venture capital going to women. Women received a dismal 7% in VC funds in the first half of 2013 and there are no indications it has gotten any better.
To highlight the success of women entrepreneurs, OWL honored ten remarkable women at the non-profit's annual event recently in Washington, DC.
Hall of Notables selected
All entrepreneurs, the role models  were celebrated by becoming part of the first "Hall of Notables" for OWL. The selection was based on those women whose lives most embody the spirit of encore "entrepreneurism" – the ability to reinvent oneself, to continually seek out new opportunities and to give back to communities.
Margaret Huyck, OWL president, opened and defined the session with "Our vision is of a society where women over 40 are secure in their finances, are free to pursue careers and family, and have the support they need to live long, vibrant and independent lives."
The 2015 honorees
VERNICE "FLYGIRL" ARMOUR, the first African American female combat pilot, who now runs a successful consulting business
CAROL GARDNER, founder of Zelda Wisdom, Inc.
SVETLANA KIM, entrepreneur and best-selling author
KAY KOPLOVITZ, founder of USA Network
PATRICIA LIZARRAGA, managing partner of Hypatia Capital Group
NELL MERLINO, creator of Count Me In for Women's Economic Independence
JEANNE SULLIVAN, a founding principal of StarVest, who was recently cited by Forbes magazine as one of the "Women Changing the World"
GAIL SHEEHY, award-winning author
TERRIE WILLIAMS, inspirational speaker
TERESA YOUNGER, CEO of Ms. Foundation
National Press Club event
The event was moderated by Lisa Stark, who is currently freelance correspondent with Al Jazeera America and formerly with ABC News for over 20 years. In her introduction of the celebratory panel, she emphasized the value of becoming an entrepreneur. "People not only work longer but are coming back to work," she said.
Margaret Huyck, OWL president, said "Economic security has been at the heart of OWL's mission since its founding 35 years ago. Entrepreneurship is becoming increasingly prevalent among women. This is far from being just a young person's game."
Entrepreneurs are often a little older. "Entrepreneurs tend to be middle-aged – 40 years old on average – when they start their first companies," Huyck said. "People ages 55 and older are almost twice as likely to found successful companies as those ages 20 to 34. Women entrepreneurs are smart investments."
The world of women and business seems to be in a revolutionary period. "We see women starting investment funds and small business incubators, breaking down barriers and building new pathways to success," Huyck noted. "It's a trend that greatly expands the potential for financial prosperity for the nation's estimated 78 million 40 plus on whose behalf OWL advocates. We are committed to doing what we can to make sure this trend continues."
Honorees offer inspiration at event
Carol Gardner
Carol Gardner, created  Zelda Wisdom, a greeting card company when she was 52 years old. Coming from a strong marketing and advertising background, Gardner parlayed what started out as her winning a local photo contest into wildly successful, Zelda Wisdom. Today Zelda Wisdom is credited as one of Hallmark's #1 card lines and now generates more than $50 in annual sales.
Gardner's advice to budding entrepreneurs is "Think outside the cage versus the box. You can see outside of the cage, spread your wings and fly away."
Nell Merlino
Nell Merlino has mobilized more than 20 million people in movements to promote women's economic independence. Nell created "Take Our Daughters to Work Day," started "Count Me In for Women's Economic Independence," and launched "Make Mine a Million," a business growth organization, with Hillary Clinton.
To become successful, Merlino counsels, "You need a concept or product that is 'New/better/different' to start a new business. And you need to stay relevant. Keep up with technology."
It takes a team to build a business. "There's nothing I've done in business or social entrepreneurship," Merlino said, "that hasn't involved a strong group of people from different sectors, ages, ethnicities and so on. It takes a variety of people to get things done."
Gail Sheehy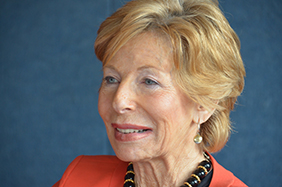 Gail Sheehy has changed the way millions of women and men around the world look at the stages of their lives through her book, Passages, which was named by the Library of Congress as "one of the ten most influential books of our time." Sheehy has interviewed thousands of women and men, including world leaders such as Bobby Kennedy, Margaret Thatcher, both Presidents Bush, Anwar Sadat and Mikhail Gorbachev.
She culminated a decade of covering Hillary Clinton for Vanity Fair with the biography, Hillary's Choice. At age 70, she figured it was time to turn the lens on herself and wrote a memoir, Daring, about her own passages.
Sheehy echoes Merlino's advice. "Find partners. No one does this alone." She adds, "Take a less traveled road. When you're older, say to yourself, 'I'm still her.' Dream dangerously but act confidently."
Jeanne Sullivan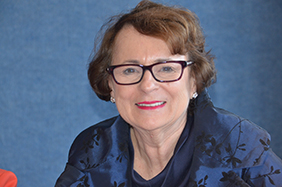 Jeanne Sullivan is a cofounder and general partner of StarVest Partners, L.P., a New York based VC firm with over $400 million under management. She helped build the New Media Angel Investors Program in New York. Sullivan was named by Forbes Magazine as one of the top five "Women Changing the World" in her role as an influencer grooming the next generation of women venture capitalists. Her background includes corporate experience at AT&T, Bell Labs and Bozelle Worldwide as well as a managing  director for Olivetti Ventures.
Sullivan tackled the fear of financing a business issue. "Some entrepreneurs, especially women, think it's too hard to figure out the financials, understand business models, and do the accounting. I tell every crowd I speak to, 'You can learn this stuff.'  It's never too late unless you don't start," Sullivan said.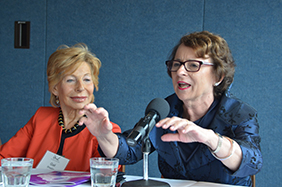 Sullivan went on to inspire the audience with "I'm on a mission to support people who are 50+ and help them find a second, or even a third, act. The same issue young people have, What's my passion and my purpose, and how can I make a living doing that, remains the same at any age."
Teresa Younger
Teresa Younger, CEO and president, Ms. Foundation for Women, has been on the front lines of some of the most important battles for women's health, safety and economic security. She was the first woman and the first African-American to serve as executive director of the ACLU of Connecticut. Recently, she concluded her role as two-term president on the board of the Girl Scouts of Connecticut, which serves 46,000 Connecticut girls and 20,000 volunteers.
"My experiences with the Girl Scouts helped me tremendously." Younger said. "The advice I would give to anybody is, "Go ahead and take the step." Life is a ballet. Only the choreographer and dancer know all the steps. That means, if you make a mistake, chances are, no one will notice. In fact, they may still clap. So, take the risk to dance."
Patricia Lizarraga
Patricia Lizarraga has over 20 years experience in merchant banking. She is a managing partner at Hypatia Capital, an investment bank that specializes in building relationships with women executives of the Fortune 1000.n She is alaso a prominent investor at Golden Seeds, the investment firm focusing on women-led businesses.
Lizarraga attributed part of her upwardly mobile career to family. "I owe my success to my parents who taught me," she said. On growing your business, she noted, "I advocate getting involved in organizations that correspond to your profession or trade — and then to commit to actively networking with members at local and national events."
Svetlana Kim
Under the gloomy curtain of post-Cold War Russia, Svetlana (Lana) Kim was offered a lifeline – a plane ticket to the US. Arriving in New York and knowing no one, she made her way to San Francisco through the kindness of a stranger who bought her a cross-country bus ticket. Through pure determination, she taught herself English, found a job as a nanny, and landed a part-time job selling cosmetics. She eventually earned her American citizenship and became a Hall of Fame Paine Weber stockbroker.
"I've come to believe that each of us has a personal calling that's as unique as a fingerprint – and that the best way to succeed is to discover what you love and then find a way to offer it to others in the form of service, working hard, and also allowing the energy of universe to lead you." Kim said. She added "the "secret to longevity is to laugh and the meaning of life is to share."
Vernice Armour
In 2001, Vernice "FlyGirl" Armour graduated from flight school, having earned her wings by graduating top of her class. In 2003, she flew during the invasion of Iraq, becoming America's first female African American combat pilot. Now, a popular professional speaker whose clients include Delta, NASA, Comcast,PepsiCo and IBM, Vernice has appeared on The Oprah Winfrey Show and The Tavis Smiley Show. She travels the country motivating people to move from Zero to Breakthrough (the title of her book from Gotham-Penguin).
Armour offers this guidance: "Do what average people do, have what average people have. I don't want to be average, do you?"
For more information about OWL and how to become a member, visit: http://www.owl-national.org