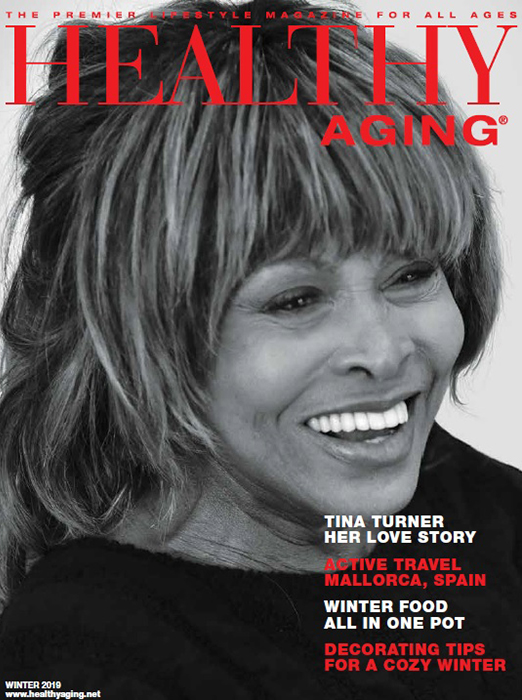 The latest digital issue of Healthy Aging® Magazine has been published. Don't miss out on the special active traveler issue filled with inspirational and informative articles written with the never-give-up spirited audience in mind.
Want to see what's inside? You need to SUBSCRIBE!
Already a subscriber? Just login and the door will be open for you to read all of the features and columns. Not a subscriber? Click here to receive your issue the digital Healthy Aging® Magazine: Subscribe!
Here's a sampling of what you will have access to as a subscriber:
Tina Turner: What's Love Got to Do With It?
Inspirational memoir and new Broadway musical for Tina Turner
Bucket List Cycling Vacations to Be Found in Any Season in Mallorca
A hundred beauty spots; a thousand places waiting to be discovered
Hooray for Winter and One-Pot Meals
Ideas for what do serve on a chilly winter night
Gallop to Your Next Vacation — Make it a Dude Ranch
Grab your hat and boots for an unforgettable active vacation
A Place to Be Pampered
Iberostar Grand Portals Nous, adults-only hotel, is waiting in Mallorca, Spain
Downsizing, Getting Your Kids to Take Your Stuff
Tips from professional "downsizer"
Old Lady on the Trail
76 year old completes the Triple Crown of long-distance hiking
Active Travel: Road Trips Across America
5 incredible road trips to add to your must-do list
And more …
Importance of Sleep … 4 Steps to a Younger, Sharper Mind
Ways to improve mental clarity and more through sleep
Choosing Happiness: It's Never Too Late to Be Yourself
Tips to help you find happiness
All-Season Lexington, Kentucky
How to get up close and personal with this slice of horse paradise
Bathroom Remodeling Ideas When You Plan to Stay Put
Age in place … begin with remodeling to suit your growing needs
Help! A Move Manager Helps You Downsize
What is a move manager?
Health: What Does Genetic Testing Mean for Healthcare Decisions?
What to consider when ordering a genetic test
Food: Noodling Over Ramen
Ramen lore and new recipes
Finance: Transitioning Your Assets … A 4-Step Process
How to make a financial plan
Ideas: What Home Might Look Like in the Future for Aging Baby Boomers
New living environment map charts the possibilities
Profile: Don't Take a Wrong Turn on the Road to Health
One man's recipe for good health
Travel Tips: 7 Tips to Help You Vacation Without the Financial Stress
Ideas for how to travel without stress
Bookshelf Winter 2019
New books recommended by Healthy Aging® Magazine staff