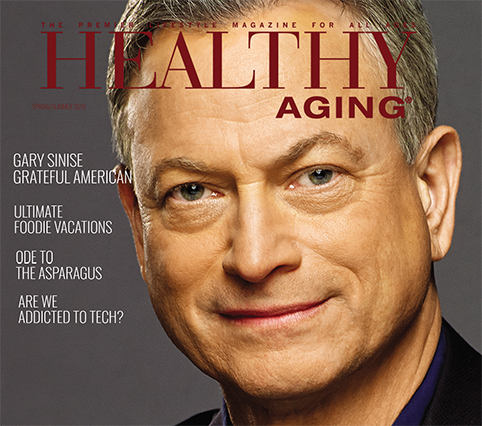 The latest issue of Healthy Aging Magazine has been published.
Be inspired to improve your lifestyle at any age. Travel the world through this special issue featuring unique places to visit, financial freedom articles, book reviews, recipes, and more.
You will love the gorgeous photography, thought-provoking articles, easy to read and maneuver, digital edition. While some of the articles will be excerpted on the Healthy Aging website, to enjoy the full articles, a paid subscription is required.
Here's a sampling:
Gary, Sinise, Grateful American.
Cover feature story on the actor, director, and now author who became well-known in his starring role as Lieutenant Dan in Forrest Gump to give of himself to a life in service.
10 Ideas for the Ultimate Foodie Vacation
Love to eat? Love to cook? A foodie vacation is for you
Ode to the Asparagus
Singing the virtues of asparagus … first sign of spring … and ideas for following the asparagus trail in Germany.
5 Reasons Plants are Perfect for Your Bathroom
Warm weather ideas for indoor plants to leave no room un-flowered
The Truth About Superfoods
What's true and what isn't about superfoods
Adventure Starved?
11 ways to shake things up
When the Extended Family Vacations Together
Multi-generational travel is healthy for everyone
Exercise: The Ultimate Love-Hate Relationship
Ditch the excuses and get going
Tech Addiction Doesn't Only Affect Kids
We are all vulnerable to overuse and dependence
Don't Fear the Podium
How to deliver a public talk with confidence and grace
7 Health Benefits of Playing Golf
Getting out on the links can be good for you. Tips from Golfscape.com
The 3 Rooms: Which One Are You In?
Where am I? Past, present or future?
And … In Every Issue …
Nutrition: Unscrambling the Egg
Ideas: Why We Are Still "Kicking Ass"
And why you should too
Profile: Aerial Photographer Follows Her Passion
One women's passion for A, B, Cs … golf that is
Health: The Dangers of Glaucoma
What you need to know about glaucoma
Finance: Charitable Giving …
Is Philanthropy Part of Your Financial Plan?
Travel: 5 Supersized Vacation Ideas
Vacation rentals ideal for large, traveling families
Book, Books, Books!