Time to get rolling … or spinning, rowing, stretching, pushing, pulling.
It's New Year's resolution time, and exercise is once again the most popular one for 2021.
With many of us spending so much time at home over the past year (Yes, it's getting close to a year!), those pounds seem to be just accumulating. COVID-19 certainly has brought this secondary health risk to many of us – an extra 10, 15, or 19 pounds or more.
With fitness center access difficult in many parts of the country, the at-home gym continues to be a priority. Deciding which piece of equipment is right for you, however, can be mindboggling.
Equipment technology is a far cry from what our parents, grandparents, and even great-grandparents might have tried out. Anyone remember seeing the vibrating belts and rudimentary rowing machines? What about the clothing? Not revealing or functional!
We are in a new era and there are now so many choices of what sport and equipment to use.
Here are some of the more popular pieces of equipment to consider to break it down for you. See the roundup article including cycling equipment like Peloton, Wahoo KICKR; suspension training with TRX Home2 System; rowing equipment like Concept2 Model D RowErg, NordicTrack, Hydrow Rower; programs like UCanRow2, RowPro and the "unexercise idea," Miracle Ball Method. Check out the clothing, too, like Belocorva and Pearl Izumi.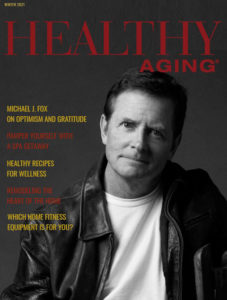 See complete Healthy Aging® Magazine article: At-Home Fitness Equipment Roundup – 2021