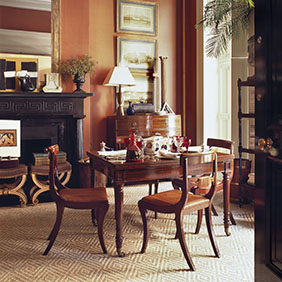 You've lived for years in your historic or classic residence and have no plans for leaving it any time soon. Need ideas for updating? Gil Schafer, author of The Great American House: Tradition for the Way We Live Now, offers many ideas and photo examples of how.
By Gil Schafer
One of the most effective ways I know to contemporize a classical residence—whether we're renovating an existing historic home or starting from scratch—is to rethink the placement of rooms within the traditional plan. If in the old days (to cite one example) no one visited the kitchen and everyone gathered in the living room, today the opposite is true: living rooms are often reserved for "occasions," and kitchens—big, with breakfast tables, TVs, and sometimes even fireplaces and sofas—are the true living rooms. Given the new reality, doesn't it make sense to upend the old hierarchies and move the kitchen from its traditional exile at a house's far corner and closer to the heart of the action?
Move the kitchen to the heart of the action
That is precisely what we did in a classic five-part American Palladian country house my firm designed for an east coast couple. The pair very much enjoy cooking and socializing with friends while doing so; they wisely recognized that if the kitchen were sited in a distant wing, the rest of their beautifully detailed new home would get much less use. So we placed it in the central part of the house, right off the entry hall and only steps from the living room. In terms of its architecture, detail, and material palette, the house remains unmistakably traditional, even formal, but in this respect, the plan is closer in spirit to a contemporary loft.
Redefining rooms
It is also sometimes the case that rooms once considered essential can be extracted from the plan entirely. Maid's rooms are a common example, but a pair of empty nesters for whom we worked went further and did away with the dining room too. Instead, we designed a grand and traditional living room, with a large center table that could be expanded for the occasional formal dinners the couple hosted. We also gave them a spacious kitchen/family room more suited to the informality of daily life and relaxed get-togethers with friends. Either situation on its own would have proven insufficient: like so many people who enjoy traditional living in a modern context, the couple required both.
Thinking out of the box
I should note that one of the problems of replanning an actual historic home is that its service spaces, closets, and bathrooms are usually much smaller than what we are used to nowadays, and it can be a challenge to comfortably include all of the contemporary functions our clients require. If there is a big attached garage or outbuilding near the main residence to steal space from, that can save the day; sometimes it's just a matter of reapportioning existing square footage to achieve a comfortable balance between formal and informal areas—for example, taking over a guest room to create a large master suite.
Excerpted with permission, © The Great American House: Tradition for the Way We Live Now by Gil Schafer, Rizzoli New York,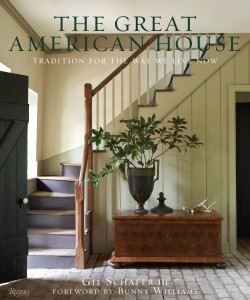 2012.  Article appears as part of Healthy Aging Magazine feature, Refresh The Nest, Winter 2013.