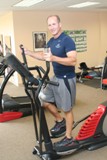 By William Olson
Your age is not where you are chronologically, but biologically – yes, past a certain age, people begin to lose muscular strength, balance and flexibility, but that does not mean that you can't get younger this year. Fitness after 50 means learning to listen better to your body, varying your exercise, and modifying your diet.
Health and fitness are things that many people have pre-conceived notions about – "no pain, no gain" for example – but that just isn't true. To make yourself younger and more vibrant every year, it is important to find exercises and sports to pursue without a lot of pain. Exercise can be transformative, sharpening your focus and keeping your spirits up. It should not cause chronic or acute pain, but it should challenge you.
It is easy to get over-adapted and even stuck with one routine, but as we age, it is more important than ever to vary our exercises, choosing ones that are complementary. If running five miles each morning is your standard workout, try replacing that with swimming twice a week, and add bodyweight resistance training to work on your muscle strength and core. Variety is good for your body and mind.
You don't even need to have a gym membership to be fit after 50. In fact, many people are going back to basics when it comes to their workouts, training in ways that people have for hundreds of years. These exercises are not just good for your wallet, but good for your joints, due to their low impact. Think yoga, pilates and any other type of exercise that uses your bodyweight as resistance. Many new products help achieve these types of workouts, including the aeroSling ELITE, which uses a pulley system to allow a whole gym's worth of workouts without joint stress.
The key to long-term conditioning is committing to a sustainable lifestyle change, no matter your age. This can seem daunting, but here are some things you can do to kick start the journey to reaching your fitness goals after 50.
Think about the big picture – Determine a long-term goal and work towards it incrementally. Don't get caught up in small setbacks.
Room for improvements – Ask yourself what you're doing on a daily basis that has room for improvement. Do you take the elevator every morning? Opt for the stairs instead. Park further away from the office building. You'll be amazed with how quickly all the little things begin to add up.
Don't do too much too quickly – Biting off more than you can chew is a path to failure. Your health and fitness should be something you can easily maintain, and not a huge burden.
Remove obstacles to success – Cut out sugars and sweets. Eat fruits and vegetables for snacks instead of prepackaged junk foods. Eliminate fast food. Drink less alcohol. Make these and other similar incremental changes and you'll find yourself having more energy and feeling healthier.
Vary your exercises. Do cross training, vary your exercises not only to keep your interest but to make physical improvements faster and without hurting yourself.
Develop an exercise routine that's sustainable – Don't commit yourself to exercising every day or set unrealistic goals, but find exercises that you enjoy, and make you feel good. If you exercise to the point of exhaustion every time, it will not be sustainable.
Use common sense in your diet – As we age, diet becomes more important. Your body needs good fuel, and you need to be aware of what fuel you are giving it. Listening to your body is as important with diet as it is with exercise, and eating well will change the way you feel.
Celebrate your successes – When you reach a milestone, reward yourself with something special. This doesn't mean having a big piece of cake because you lost 5 pounds. Opt for something non-food related like a professional massage or round of golf.
You have to make proper exercise and nutrition a priority and commit to it. By doing so, you're not just making a commitment to exercise, but you're taking control of your own destiny, allowing you to live a healthy and vibrant life. By adding more "innings" to your life, you also add more life to your "innings."
William Olson, President and CEO of Smooth Fitness, is constantly demonstrating his fitness for the job – literally. In addition to treadmill and elliptical workouts, he swims, spins, practices yoga and core trains with famous fitness expert Pat Croce twice a week. Olson, a linebacker for Temple University in his college days, came to Smooth Fitness with over 25 years of marketing and executive experience with companies such as Dunlop Sports, Coca-Cola, Guinness Brewing NA, and Procter & Gamble. http://www.smoothfitness.com/