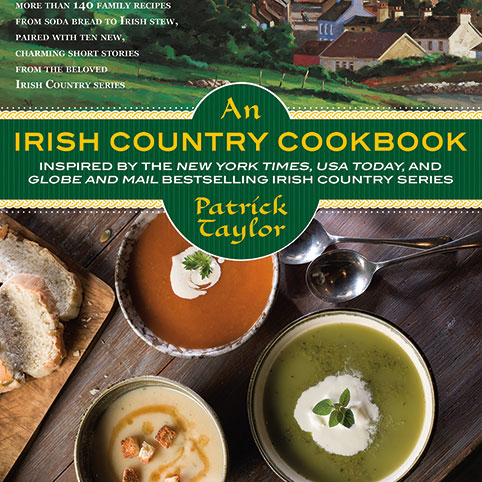 Today is St. Patrick's Day … a great day to wear green, watch a parade and, maybe, drink some green beer. You can even catch a smooch when you see someone wearing a "Kiss Me, I'm Irish" button.
This year, St. Patrick's Day which is always March 17, falls on a Friday. This means you can celebrate all weekend. Use the time off as an excuse to add Irish recipes to your repertoire.
To help you expand your Irish menu horizons, check out the newly released cookbook, An Irish Country Cookbook by Patrick Taylor with Dorothy Tinman.
Bestselling author Patrick Taylor has long charmed readers with his lively, witty, and touching tales of a colorful Irish village and its memorable residents. Perhaps, you have read his writings in New York Times, USA Today, and Globe and Mail.
Short Stories Pair with Recipes
The book includes ten new short stories in the popular An Irish Country series but is now uniquely paired with more than 140 delicious Irish family recipes.
Told from the perspective of beloved housekeeper Kinky Kincaid, one of the cherished starring characters in Taylor's An Irish Country series, An Irish Country Cookbook, A Forge Trade Paperback, explores Ireland's rich culture through its delicious dishes and stories of its charming people.
Recipes Handed Down Through Generations
These authentic tried-and-true family recipes have been passed down from generation to generation, and are the original comfort food for millions.
Organized into sections such as: appetizers, soups, breads, mains, sides, sauces, desserts, cakes, candy and treats, and Ulster Christmas recipes, this cookbook brings the magic of Irish cooking and time-honored Irish traditions to life.
The ten short stories starring Dr. Fingal Flahertie O'Reilly, Dr. Barry Laverty, and the colorful village of Ballybucklebo will delight fans of the series and new readers alike.
From starters to sauces, Irish soda bread to Christmas dinner, these memorable dishes will bring a taste of the world of the Irish Country books to every kitchen.
About Patrick Taylor
Patrick Taylor, MD, was born and raised in Bangor, County Down, in Northern Ireland. Dr. Taylor is a distinguished medical researcher, offshore sailor, model-boat builder, and father of two grown children. He is the author of the Irish Country series that began with An Irish Country Doctor. He now lives on Saltspring Island, British Columbia. Visit him at www.patricktaylor.ca.
Here are two recipes from An Irish Country Cookbook:
Guinness Gingerbread
Makes 1 cake
1 ¼ cups all- purpose flour
1 tablespoon ground ginger
1 teaspoon pumpkin pie spice or Chinese five- spice powder
1 teaspoon ground cinnamon
1½ teaspoons baking powder
½ teaspoon baking soda
½ teaspoon salt
1 cup butter, softened
1 cup brown sugar
2 eggs plus 1 egg yolk
1 cup molasses or treacle
¾ cup Guinness, flat
Preheat the oven to 350°F. Grease and flour a 9" by 5" loaf pan.
Sift the flour, ginger, pumpkin pie spice, cinnamon, baking powder, baking soda, and salt together into a large bowl.
In a separate bowl, using an electric mixer, beat the butter and sugar together until fluffy. Add the eggs and yolk, and then the molasses and continue to beat until well mixed. Gradually add the flour mixture alternating with the Guinness; do not overbeat.
Pour the batter into the prepared tin and bake for 50 minutes to an hour, until well risen and firm to the touch. Allow the cake to cool in the pan for a few minutes, then turn out onto a wire rack to cool completely, covered with a damp tea towel.
Now you can of course eat it right away, and it really does make a nice dessert served with cream or ice cream. However, if you wrap the gingerbread in parchment and leave it in an airtight tin for a day or two, it will become more moist and delicious. Some people enjoy this with butter.
Soda Farls
The word "farl" comes from the Scots word fardel meaning "fourth." The bread was shaped into a round and cut into four quarters and cooked on a griddle over an open fire. Nowadays I use a large frying pan instead. They take no time at all to make and are cooked in a shmall little minute.
Makes 4
1 cup all-purpose flour
½ teaspoon baking soda
½ teaspoon salt
1½ tablespoons butter
1 ¼ cups buttermilk
First warm a griddle or a large frying pan over a medium heat and dust with a little flour. This will stop the wet dough mixture from sticking to the pan.
Sift the flour, baking soda, and salt into a bowl and rub in the butter. Now make a well in the middle and pour in about three-quarters of the buttermilk, stirring quickly. (The baking soda will react on contact with the buttermilk as the leavening agent, and if you take too long at this step the bread will not rise sufficiently.)
Add the remaining buttermilk if needed. While the mixture should be quite wet and sticky it is not as wet as a pancake mixture would be. It should not be too wet and sloppy or you will not be able to shape it. Now if it still looks a little too wet to shape add some more flour gradually until it is like a bread dough and not a pancake batter.
Now turn your dough out onto a well- floured work surface and knead lightly, then shape into a flat round. Cut the dough into four wedges (farls) and place on the griddle. They should take 5 to 10 minutes on each side.
Just to be sure they are cooked through to the center, you could test with a skewer. Now put the farls on their edges and turn them every few minutes so that the side edges are cooked too. This is called harning. Allow to cool on a wire rack under a slightly damp Irish linen teacloth. These can be frozen until required.
Recipes and photos used with permission from Tor Forge Publishers.