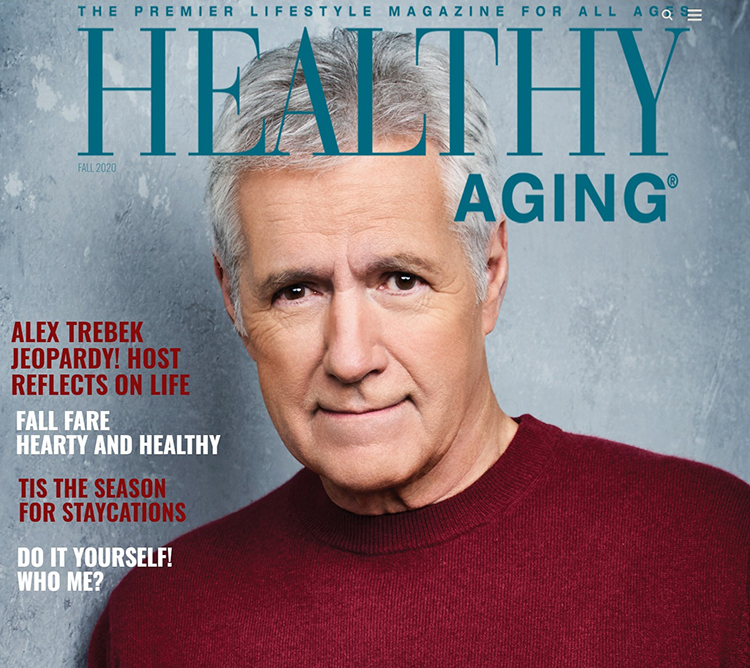 We offer hope and inspiration in every issue of Healthy Aging® Magazine and the fall issue is no exception. And, let's face it … we all need some of that right now. Yes, times have been tough for many over the past months. Everyone has had to juggle their routines, strengthen preventive health measures, alter social plans with friends and family, redefine work and play and, in many cases, curtail the gym visits.
There is still a tremendous amount of uncertainty in our lives but there are many options out there to keep us going as the weather changes.
We know that physical fitness along with mental and social wellness are the keys to a healthy lifestyle. So dive into the fall issue of Healthy Aging® Magazine for ideas, tips and inspiration to keep you going, no matter what. Here's to making this the best fall season ever!
Subscribers
Subscribers can log in at any time from any page of the Healthy Aging website, top right corner.
Not a subscriber?
Subscribe now and take advantage of the fall 2020 special with the discount code SAVE10 for one year or JUST25 for two years.
Long time game host shares his life story in new memoir
Book the entire place … a ranch, historic home, great camp
When it comes to health and aging, we are fixating on all the wrong things
Satisfy your fall food cravings without letting out another belt notch
Not your typical yoga teacher
Tricks for a happier, calmer, confident you
Adventures Across America … Along the Lewis and Clark trail
Telehealth visits are emerging as a convenient and effective way to visit with a health care provider
Greek cuisine boasts a great array of plant-based recipes
Parents wonder: How did this happen? Where did I go wrong?
Fix a broken windowpane, bake bread in a flowerpot, dye your hair with herbs
10 Tips from Healthy Aging® to Keep You Going This Fall Season
One man's hilarious experience as a contestant
Cellophane Hearts: Why following your passion might be the best thing you've ever done
A three-part blueprint for living from a strong, masculine core
Older volunteers have their advantages
Ideas for helping prevent baldness
Preparing for Medicare's Annual Enrollment Period: Oct. 15 – Dec. 7
Gluten and Dairy Restriction: You Deserve Better!
New books recommended by Healthy Aging® Magazine staff
If you would like to read these articles and are not a subscriber, click here to SUBSCRIBE!