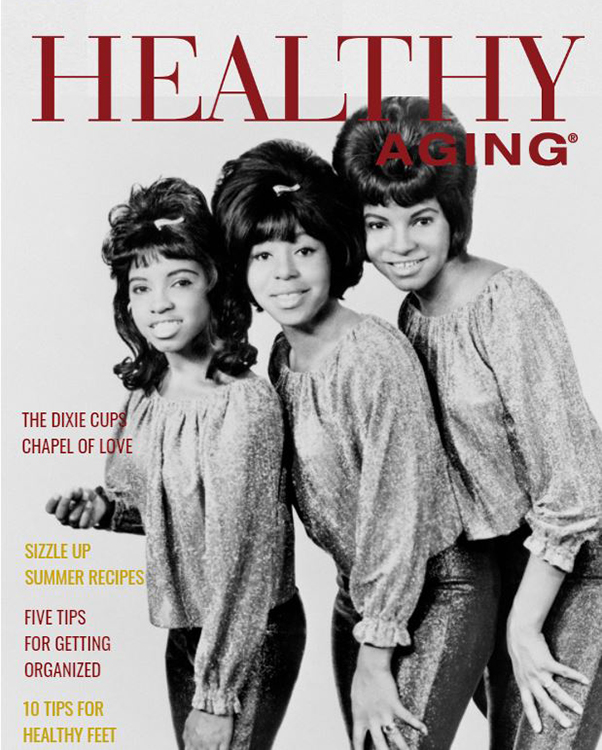 Coinciding with the coming of summer, we can hear a worldwide collective hallelujah. Normal lives seem to be in view.
Travelers are not just dreaming of travel; they are booking trips.
Those who put on the COVID 19 pounds are in full battle mode to shed the excess.
Seeing family and friends, attending events is all top priority. All good stuff!
To help you get back to a more normal life, we offer loads of ideas for positive mental, physical, social, and financial wellness in this issue.
Subscribers
Subscribers can log in at any time from any page of the Healthy Aging® website, top right corner.
Not a subscriber to Healthy Aging® Magazine?
Subscribe now and take advantage of the summer 2021 special with the discount code SAVE10 for one year or JUST25 for two years.
What's Inside
How the Dixie Cups sang to the top of the pop charts in 1964
A pilgrimage to clear the mind and soul
Easy and quick recipes that wow
A historical look at fitness
Keeping your best feet forward
Amazing people doing amazing things at older ages
How to feel greater love, joy, and peace
More reasons to follow your passion
Ideas for caregivers when they are pushed us to their emotional limits
Serenity, simplicity, adventure, and spectacular views for liveaboards
Honoring canines who have served
It's never too late to tap!
Time to fix your chicken scratch, become a better linguist, and work on that bucket list!
Kicking and Punching Our Way Through: The Gift of an Indomitable Spirit
How to get your life organized without losing your mind
7 things you need to know if you regularly take NSAIDs (nonsteroidal anti-inflammatory drugs)
On turning 77
Honoring relationships while you give care
Be inspired! subscribe to Healthy Aging® Magazine, the lifestyle magazine that is all about following your passion and what you can do rather than what you can't.